Security forces recently arrested an alleged Palestinian cell suspected of several terror attacks, including a firebomb attack that wounded an Israeli driver and throwing Molotov cocktails at Jewish homes.
Nine Palestinians living in Beit Hanina and Jerusalem's Old City were arrested about two weeks ago for allegedly throwing Molotov cocktails at a vehicle on Route 20 near Beit Hanina, wounding two people, it was cleared for publication on Sunday.
The arrests were made in a joint operation by investigators from the police's Central Unit and the Shin Bet.
The nine – five adults and four minors – have been indicted for the attack and several other incidents.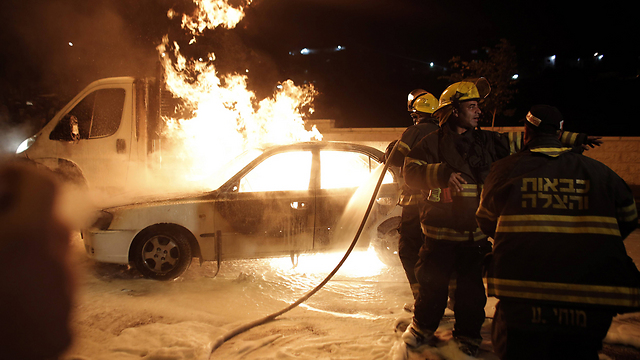 On the evening of August 3, three Molotov cocktails were thrown at a vehicle on route 20, moderately wounding a woman and burning the car completely.
The indictment against the group also mentions the throwing of a Molotov cocktail at a Jewish home in Beit Hanina, wounding two people, and alleges that it also threw firebombs at the house on three other occasions over the past six months without causing casualties.
According to the indictments filed by the Jerusalem District's Attorney, the nine are suspected of organizing as a terror cell. The DA will request that the accused be held in custody until the end of the legal proceedings.
As reported by Ynetnews