Police submit psychiatrist's opinion to court, which states Yishai Shlissel is mentally competent; Shlissel defiantly defends actions.
Jerusalem police on Thursday morning issued an affidavit against Yishai Shlissel, who stabbed and killed teenager Shira Banki and wounded others at the Jerusalem pride parade last month, for murder and six counts of attempted murder.
The Jerusalem Magistrate's Court also received an opinion by a psychiatrist who said Shlissel is for to stand trial.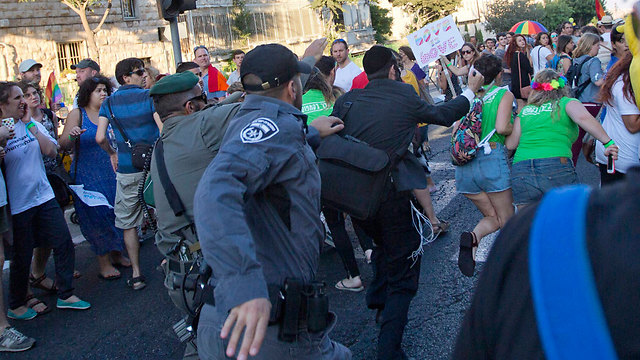 At the hearing, a police representative presented the opinion, signed by doctors from the Jerusalem Mental Health Center, which stated Shlissel was competent.
Shlissel has continued to maintain his right to silence throughout the investigation, including when he was shown videos and photos documenting the murder.
Shlissel spoke defiantly during Thursday's hearing, saying: "Despite the great sorrow, you need to know that anyone marching in the Jerusalem pride parade fights against the Almighty. Anyone who fights against the Almighty cannot complain."
Judge Anna Schneider extended Shlissel's remand by five days, during which the prosecution will prepare its indictment.
Throughout his remand, Shlissel has criticized the court. "You have no authority to judge me according to the laws of the holy Torah, so I am not interested in cooperating and not interested in having representation," he said.
The police have been anxiously waiting for release of the report by the committee investigating possible security failures on the day of the murder. The committee on Sunday submitted its conclusions to interim Police Chief Deputy Commissioner Bentzi Sau, who passed the findings to Public Security Minister Gilad Erdan.
Erdan was instructed to fill in gaps and submit an amended report in the coming days. Senior police sources said they believed the findings would include criticism of senior individuals in Jerusalem District Police, but not against the district's commander, Deputy Commissioner Moshe Edri.
The commission discussed, among other things, the intelligence failure that meant Shlissel was not under police surveillance, despite having stated his intent to harm parade participants.
It also questioned why warnings by police officers that Shlissel was out of prison and could attempt violence at the parade never reached officers on the ground. Some of the officers who were questioned sought legal advice before testifying to the commission.
As reported by Ynetnews