Arab MKs and religious leaders participate in demonstration in support of Mohammed Allaan; protesters shout slogans calling for kidnapping and killing of soldiers.
Around 200 people, including members of Knesset and religious leaders, protested on Saturday afternoon on Route 65 Wadi Ara in solidarity with Palestinian detainee Mohammed Allaan, who has been on a hunger strike for about two months and is hospitalized in Barzilai Medical Center in Ashkelon.
Protesters shouted slogans such as "We will sacrifice our lives for the detainee," "Allaan is a hero," "nothing is better than killing soldiers and policemen," and "kidnap soldiers and release prisoners".
A large police force was present at the protest, and police called on protesters to clear the road.
Among the MKs who arrived were Ahmad Tibi, Hanin Zoabi, Jamal Zahalka, Yousef Jabareen and Osama Sa'adi , all representing the Joint Arab List.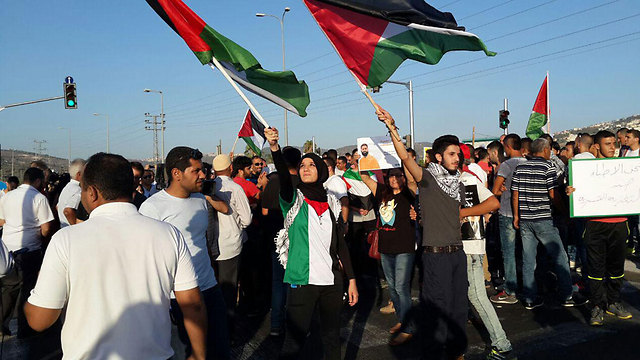 Demonstrator Ahmed Masarwa said that "We are willing to stop our work and all other activities, and focus solely on the struggle for the prisoner Allaan. The Israeli government needs to understand that his detainment can inflame the region and cause rage rallies in all of Arab society. This time nothing will deter us. We are all willing to pay the price even if they arrest and indict us."
Allaan, who has been on a hunger strike for about two months, lost consciousness on Friday and was resuscitated.
As reported by Ynetnews