Formed less than a year ago, the team won 2 silver and 3 bronze medals at the international competition; previously the team leader participated in the 2014 Gay Games held in the US.
A delegation of nine swimmers from Tel Aviv's gay swimming team, the TLV Nemos, returned home recently from the international gay swimming championship at the Eurogames in Stockholm with five medals – 2 silver and 3 bronze.
The swimming competition attracted hundreds of swimmers from around the world, from the United States via Europe to Australia and New Zealand. It was the first time a gay Israeli swimming team participated in a world championship and this after less than a year from the date when the group started to train together.
"A year ago I participated in the 2014 Gay Games in the USA as the only swimmer representing Israel," recounted Sagi Krispin, 39, captain of TLV Nemos. "I decided that a swimming team had to be formed in Tel Aviv and in less than a year, I led a group of nine swimmers to a world championship and we returned to Israel with medals."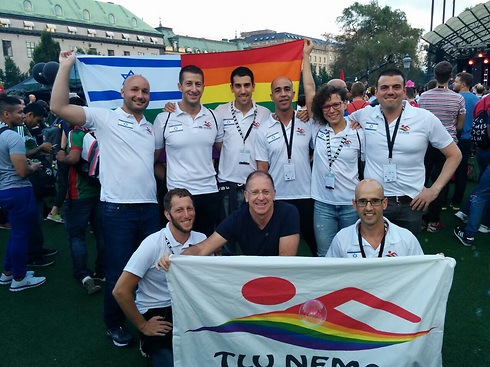 As part of the event some of the athletes in the delegation participated in an official reception at Stockholm's City Hall, where the Noble awards' dinner is held every year in the presence of Stockholm's mayor and Sweden's ambassador to the EU.
"Participating in a competition of this magnitude is an extraordinary experience" points out Shlomo Shaul who competed in the 55-59 age group. "It's unusual to participate in an event that is attended by thousands of amateur athletes of all ages from around the world. The nice side of this event is that along with the competitiveness there is a lot of encouragement. For example, when an adult swimmer finishes a swim, the whole audience, along with the competitors, stand up and applaud him."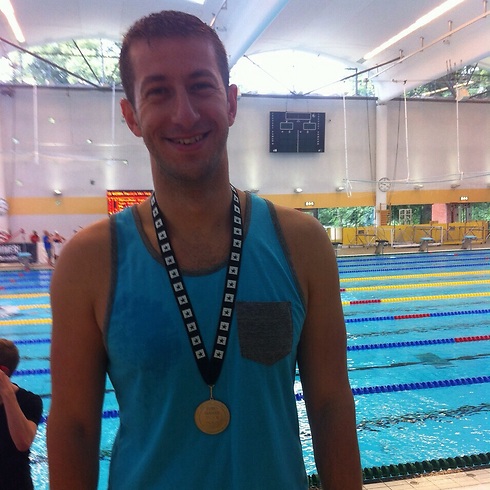 TLV Nemos operates within the framework of a gay Tel Aviv sports club, which also runs a community basketball team. All of the club's activities, including competitions are at the participants' expense.
"Our participation, in and of itself, as a team representing Tel Aviv and the country to the local population and to athletes from around the world, gives it a different and more positive aspect, despite the fact that we are totally financing it ourselves" added Krispin. "We bring a lot of respect for the city and the state, at least as much as any other athletic delegation."
As reported by Ynetnews