Beijing – A series of explosions shook the northern Chinese city of Tianjin late Wednesday, killing 17 people and injuring more than 300, according to officials and state media.
The cause was not immediately clear.
The initial explosion erupted at a warehouse for a logistics company at a port area, according to Tianjin police. The company was identified as Tianjin Dongjiang Port Rui Hai International Logistics Co. Ltd.
The state-run Xinhua news agency reported the explosion tore through a warehouse storing "dangerous and chemical goods" in the Binhai New Area.
Video from the scene showed a blinding blast of light and smoke that sent fireballs shooting across the night sky. As day broke Thursday, the extent of the damage was beginning to be made clear.
The initial blast triggered secondary explosions, setting off local tremors, according to Xinhua. Residents said the blast shattered windows and fish tanks.
The People's Daily and CCTV, China's state-owned broadcaster, reported that 17 people were killed. CCTV and Xinhua said that more than 400 people were injured, while the People's Daily said some 315 were hurt, 32 of them critically.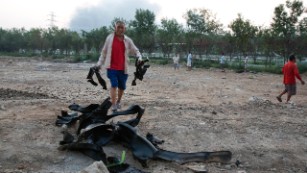 Xinhua had reported earlier that most of the injuries were from stones or broken glass.
The firefighting division of the Chinese Public Security Ministry said firefighters were first called to the scene about a fire. An explosion happened after they arrived and it damaged buildings and infrastructure. Four firefighters were injured and two more have lost contact, according to the ministry.
Chinese President Xi Jinping and Premier Li Keqiang have called for "all-out efforts" to save the injured and minimize casualties, Xinhua reported. Li also promised a full investigation of the incident.
As reported by CNN