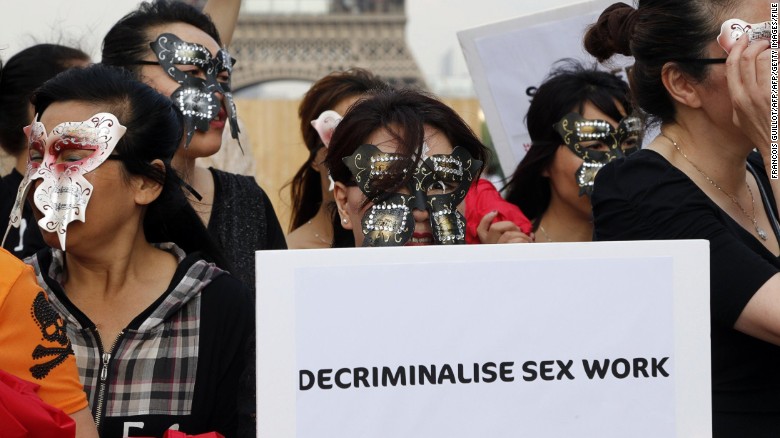 Amnesty International voted Tuesday in support of decriminalizing the sex trade.
The move comes despite strong opposition from anti-trafficking organizations and Hollywood stars.
The human rights organization passed the measure at its decision-making forum, the International Council Meeting, in Dublin, Ireland, involving delegates from around the world.
"Sex workers are one of the most marginalized groups in the world who in most instances face constant risk of discrimination, violence and abuse," Salil Shetty, Amnesty International's secretary-general, said in a statement.
Groups such as the Coalition Against Trafficking in Women have strongly opposed the move. It wrote anopen letter to Amnesty carrying the names of such Oscar-winning actresses as Kate Winslet, Meryl Streep, Anne Hathaway and Emma Thompson as well as those of activists and sex trade survivors.
Esohe Aghatise, anti-trafficking manager at Equality Now,told CNN: "It is a matter of deep regret that Amnesty has chosen to support the powerful sex trade barons who exploit the weak and poor and has refused to listen to the voice of survivors. It has ignored international law and has ignored the evidence from countries which have decriminalized brothel keeping, pimping and buying sex."
But Catherine Murphy, policy adviser at Amnesty, said she believes the rights group's policy was being misinterpreted.
"There's a lot of misunderstanding about our proposal. What decriminalizing talks about is the laws that are used to criminalize adult consensual sex work, or selling of sex among consensual adults," Murphy said.
"It does not mean the removal of all laws that deal with exploitation, abuse, trafficking, involvement of children. Those laws are absolutely needed and are still absolutely relevant within a decriminalized system. We would never advocate for that, absolutely not."
She said that one of the group's main findings in a two-year consultation is the "antagonistic relationship, often, between police and sex workers," which Amnesty hopes will be alleviated if countries choose to follow its proposal.
"This is a historic day for Amnesty International," Shetty said in the statement. "It was not a decision that was reached easily or quickly and we thank all our members from around the world, as well as all the many groups we consulted, for their important contribution to this debate.
"They have helped us reach an important decision that will shape this area of our human rights work going forward."
As reported by CNN