Decision to dedicate a day of beach parties in the French capital to Israel's most famous beach city sparks condemnation from pro-Palestinian group saying it sends 'very bad message' of support for Israel's policies.
The decision to dedicate one day of beach festivities in Paris to Tel Aviv sparked condemnation on Monday from groups saying it sent "a very bad message" of support for Israel's policies.
Every summer, the French capital turns the banks of the Seine into a makeshift beach known as Paris Plages and has this year devoted each day to a famous beach around the world.
But left-wing councillor Danielle Simonnet reacted angrily to the idea that August 13 has been dubbed "Tel Aviv Sur Seine" after the Israeli coastal city.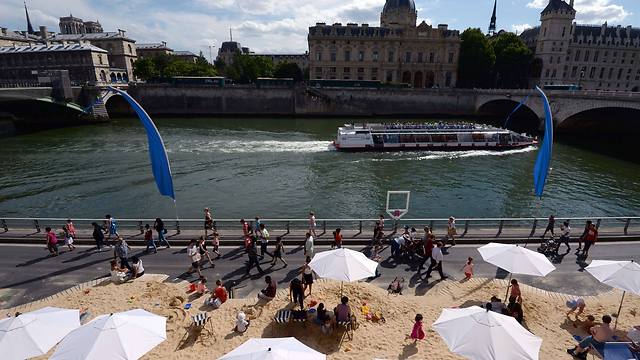 "For the Israeli government, this is a nice bit of PR that Paris is serving up on a plate," Simonnet told France Inter radio.
"I fear it will go very badly and I think it sends a very bad message."
She called for the event to be cancelled or reorganized into "a peace protest, in support of fraternity, in support of the fight against all forms of racism and anti-Semitism, and to back recognition of the Palestinian state."
Simonnet was supported by pro-Palestinian group CAPJPO-Europalestine, which called for protests if "this obscene event is not cancelled".
"It is out of the question to allow such an immoral event to go ahead in a public space," the organization said in a statement, adding that it was "not about religion but about international law, human rights and human dignity."
Bruno Julliard, a top official in the mayor's office, sought to downplay the uproar, saying people should distinguish between "the brutal politics of the Israeli government and Tel Aviv, a progressive city".
As reported by Ynentews