Scroll carried by Chief IDF Rabbi Shlomo Goren after Jerusalem holy site's liberation, which became one of Six-Day War's symbols, will arrive back at same spot 48 years later.
It's a picture which became one of the symbols of the Six-Day War: Chief IDF Rabbi Shlomo Goren arriving at the Western Wall in Jerusalem with a Torah scroll and blowing a shofar. This week, 48 years later, the same scroll will leave the IDF chief of staff's office for a historical reenactment in the Western Wall plaza.
It will be the first reenactment of the Torah scroll's arrival at the holy site, as part of an emotional ceremony which will include the arrival of 65 additional Torah scrolls from around the world in memory of the soldiers killed in Operation Protective Edge and in Israel's wars.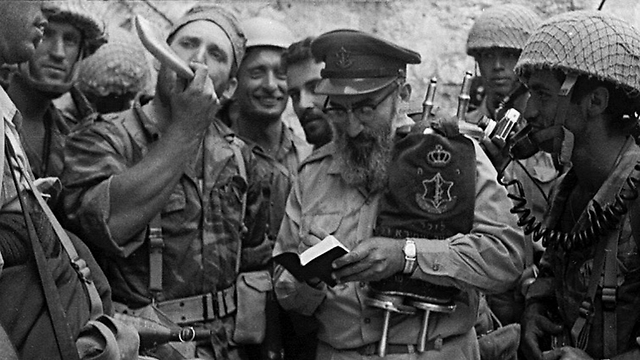 Rabbi Goren's Torah scroll will be carried by three paratroopers, Chief of Staff Gadi Eisenkot and Defense Minister Moshe Ya'alon, who will reenact the famous picture of Rabbi Goren.
The scroll was donated to the IDF at the time by the family of fallen soldier Baruch Shapira, who was killed in the War of Independence. When Goren retired from his position as chief IDF rabbi, he took the scroll with him. Several months ago, after a years-long battle, the book was returned to the IDF. Three months ago, it was placed at the entrance to the chief of staff's bureau.
The Torah scroll's arrival at the Western Wall plaza will be reenacted on Wednesday in the presence of President Reuven Rivlin, Defense Minister Ya'alon, Chief of Staff Eisenkot, Israel's chief rabbis, the Western Wall rabbi, bereaved families and the Shapira family. The event is being sponsored by the Friends of the Israel Defense Forces (FIDF) organization in the United States and Panama.
The famous scroll will arrive with 65 other Torah scrolls donated by Jewish communities from around the world, as part of a project initiated by the Yad Labanim organization. Additional Torah scrolls have been donated for the ceremony through the Defense Ministry by the Libi Fund, the Ministry of Religious Services and the Western Wall rabbi. After the ceremony, the scrolls will be transferred to Yad Labanim memorial sites and IDF bases across the country in order to commemorate Israel's fallen soldiers.
"Following a military operation in the full sense of the word, we managed to save Torah scrolls from different periods in time and bring them to Israel in order to transfer them to the Western Wall and hand them over to Yad Labanim facilities and IDF bases across the country in order to commemorate all soldiers killed in Israel's wars," says Yad Labanim Chairman Eli Ben Shem.
"The Torah scroll's arrival at the Western Wall holds a special meaning for the Jewish people, and we are glad that this is being done along with 65 other scrolls. It will enable us to mark a special event in memory of the IDF's fallen soldiers."
As reported by Ynetnews