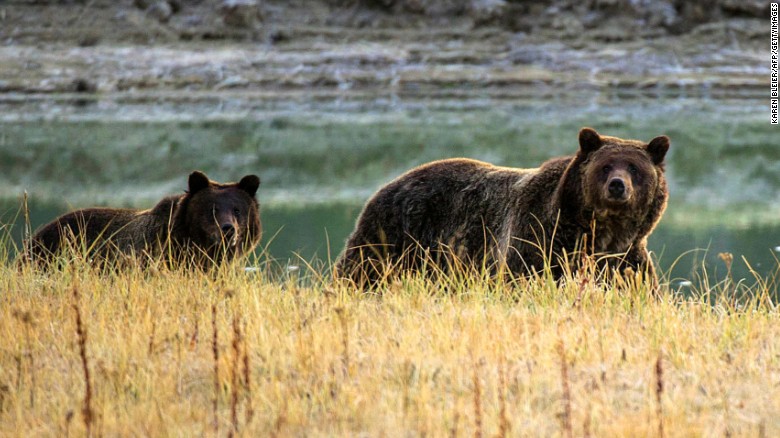 A preliminary investigation into a hiker's death in Yellowstone National Park suggests the man was attacked by a grizzly bear.
While the exact cause of death has not been determined, investigators identified what appear to be defensive wounds on the victim's forearms, Yellowstone National Park said in a statement Saturday. A forensic autopsy is scheduled for Monday.
The victim, whose name has not been released, was found Friday in a popular off-trail area less than a mile from Elephant Back Loop Trail — an area he was known to frequent. His body was partially eaten and covered.
Man mocks alligators, jumps in water and is killed in Texas
Based on partial tracks found at the scene, it appears that an adult female grizzly and at least one cub were present and likely involved in the incident near Yellowstone Lake, the statement said.
The Montana man was a long-term seasonal employee of Medcor, a company that operates three urgent care clinics in Yellowstone. An experienced hiker, he had worked and lived in Yellowstone for five seasons, the statement said.
He was reported missing on Friday morning when he did not report for work. A park ranger found his body. Additional park rangers and wildlife biologists responded to the scene and gathered evidence for bear DNA recovery. The investigation continued Saturday, though heavy rainfall in the area hampered additional evidence recovery.
American woman killed by lion had gone to South Africa to help animals
Wildlife biologists set bear traps in the area on Friday evening. If bears are trapped and identified as having been involved in the attack, they will be euthanized.
"We may not be able to conclusively determine the circumstances of this bear attack, but we will not risk public safety," Yellowstone National Park Superintendent Dan Wenk said. "We are deeply saddened by this tragedy and our hearts go out to the family and friends of the victim as they work to cope with the loss of someone who loved Yellowstone so very much."
The Elephant Back Loop Trail and immediate area are closed until further notice. Signs are posted and maps of the closure area are available at park visitor centers.
The grizzly bear population in the Greater Yellowstone Ecosystem was estimated to be to between 674 and 839 in 2014, according to the National Park Service. Park regulations state people must stay 100 yards away from bears.
This is the first human-bear encounter in the park in 2015. There have been five bison gorings, all of which have been nonfatal, a park spokeswoman said.
Deadly encounters between bears and humans are rare in national parks and national forests. Four fatalities were reported from 2010 to 2014. This is the only bear encounter for the year.
As reported by CNN