PM was scheduled to attend opening of new medical center in Sakhnin, but residents took to social media to protest 'visit of the children murderer Netanyahu'.
Prime Minister Benjamin Netanyahu has canceled a planned visit to the western Galilee Arab city of Sakhnin next week, reportedly after objections from residents.
Large forces of police arrived in Sakhnin earlier this week, searching homes without any warning or explanation and securing the southern part of the city, mainly its Doha soccer stadium. i24news has learned that the unusual police presence was due to a planned visit of Prime Minister Benjamin Netanyahu ahead of his plan to attend next Monday's opening ceremony of a new medical center in Sakhnin.
The Mayor of Sakhnin, Mazen Ganaim, confirmed the report to i24news, adding that the visit was canceled without further explanation.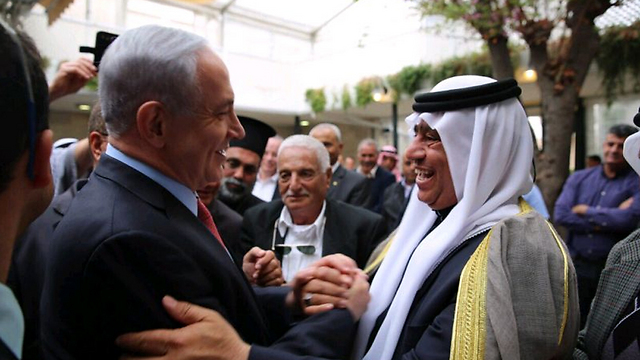 "The Prime Minister's Office first said that Netanyahu would participate in the ceremony but called us again after a few days to cancel," he said.
An official in the municipality, who asked to remain anonymous, told i24news that the real reason Netanyahu went back on his promise to attend the ceremony was the strong objection by city residents.
According to the official, the news about the prime minister's impending visit were leaked around town, bringing about a wave of harsh criticism from political activists and representatives of the Joint Arab List.
"Security arrangements were already in place in Doha Stadium and the houses around it were to be evicted once the prime minister had arrived," he added.
The protest against Netanyahu's visit spread to social media as well.
Activists called on Sakhnin's residents to express their objection to "the visit of the children murderer Netanyahu on Monday and to convince the municipality to rescind the invitation because it hurts the victims, the prisoners, the displaced and all free people."
The spokesperson to the Arab media in the PMO, Ofir Gendelman, declined i24news' request to comment on the report.
The Arab residents of Sakhnin still remember Netanyahu's controversial remarks during March 17 election day, when the prime minister has made a last-ditch attempt to rally his supporters as the country went to the polls, with a warning that a high turnout of Israeli Arab voters could threaten his party's hold on power.
In a 28-second video posted on his Facebook page, Netanyahu said Israeli Arabs were turning out "in droves" and urged his supporters to go out and vote.
"The right-wing government is in danger. Arab voters are heading to the polling stations in droves," he wrote. "Left-wing NGOs are bringing them in buses."
The remarks were condemned as "crossing a red line of incitement and racism" even by the White House and President Barack Obama.
As reported by Ynetnews