Justice minister wants to split AG's authorities into roles of public prosecutor and chief legal counsel to government, but PM says such a move would harm AG's abilities to fulfill his duties.
Justice Minister Ayelet Shaked's initiative to divide the duties of the attorney general to two different roles – head of the public prosecution system and chief legal counsel to the government – was thwarted by Prime Minister Benjamin Netanyahu on Thursday.
Earlier this week, Shaked informed the committee to select the next attorney general that the position could be divided and that each candidate will have to bear in mind they might have to give up a significant part of the authorities the position entails.
Netanyahu, however, signaled to the commission that he opposes dividing the role of the attorney general "because it could harm the attorney general's ability to fulfill his duties."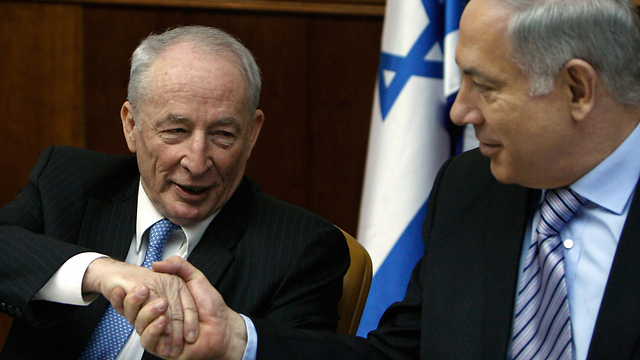 "The attorney general plays a critical role in the system of checks and balances, which is at the very foundation of Israeli democracy," the Prime Minister's Office said. "Dividing the role could limit the wide overview of the system he currently has, which is required for him to perform his duties in the best possible manner."
Shaked's position, which is similar to that of former justice ministers Yaakov Neeman and Daniel Friedmann, is expected to be met – like her predecessors – with firm opposition from Attorney General Yehuda Weinstein and senior officials in the judicial system.
During Neeman's time in office, he enjoyed Netanyahu's support, as well as that of the prime minister's senior partner Ehud Barak, but the moment Netanyahu encountered the aggressive objection of the judicial system, he barred Neeman from moving ahead with the plan to divide the role.
Shaked believes there is too much "advisory activism." She thinks that the fact the attorney general holds so many authorities makes it difficult for him to provide the government with quick consulting services, as well as help it fulfill its policies.
Shaked also believes, like her predecessors, that the powers given to the person holding the position deter ministers from confronting him to her on important issues.
During his tenure, Neeman explained his proposal to split the role by saying: "There is no person in the State of Israel who is entirely dedicated to criminal law enforcement, coordination with the police, the Money Laundering Prohibition Authority and the Tax Authority. If these issues are given the proper attention, results can be achieved."
According to Neeman's proposal, the attorney general will deal only with law enforcement.
As reported by Ynetnews