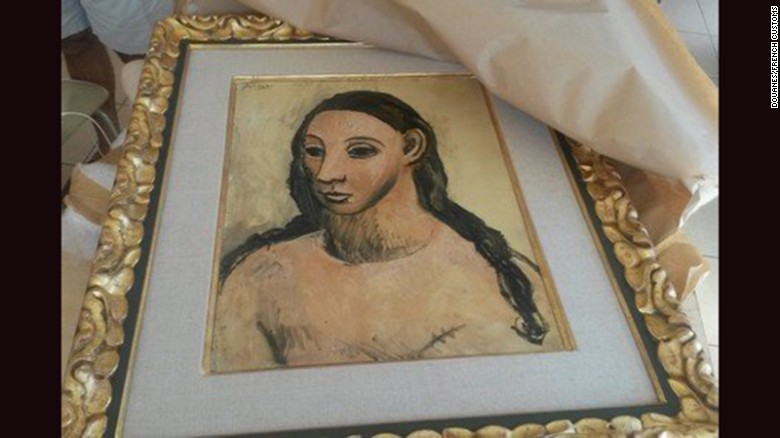 A painting by Pablo Picasso said to be worth 25 million euros ($27 million) was seized by French authorities last week, the French customs office announced Tuesday.
The work of art entitled "Head of a Young Woman" has been ruled a Spanish cultural asset and wasn't supposed to leave the country.
The painting "was found on the ship and was already wrapped up, conditioned, ready to be transferred," Vincent Guivarch, assistant director of French customs in Corsica, told CNN affiliate BFMTV.
The affiliate said the painting is owned by Spanish banker Jaime Botin, who has been trying to get permission to export the Picasso since 2012.
was discovered by customs officials on the island of Corsica, a French territory, on Friday after a tip that it was on its way to Switzerland, authorities said.
The captain of the boat had no title to justify possession of the painting nor did documentation indicating he had authorization to take the Picasso out of Spain.
Picasso finished the oil work in 1906.
In May, Christie's auction house sold Picasso's "Les femmes d'Alger (Version "O") for $179.4 million. "Les femmes d'Alger," which translates to "The Women of Algiers," is considered a masterpiece of contemporary art. It features nude courtesans, a common theme for the iconic abstract artist, and is painted in his signature Cubist style.
Picasso, who died in 1973, painted "d'Alger" as an homage to his friend and rival, Henri Matisse, the famous French impressionist.
The seller, who bought the painting privately for an undisclosed amount, remains anonymous. The painting was last sold at auction — at Christie's — for $31.9 million in 1997.
 As reported by CNN