California's largest wildfire is spreading quickly, consuming 54,000 acres in three counties and staying active throughout the night — a time when firefighters typically make progress, a state fire official said Sunday.
The Rocky Fire was only 5% contained Sunday and was feeding on the state's drought to grow actively, said Daniel Berlant, a spokesman for the California Department of Forestry and Fire Protection, or Cal Fire.
"This has been a very fast-moving wildfire with the dry conditions and the weather not really cooperating with us over the past week," Berlant told CNN affiliate KCRA.
#RockyFire has grown to 54,000 acres & 5% contained. Nearly 2,000 firefighters tirelessly working to contain the fire pic.twitter.com/ynjDzuuL3d

— CAL FIRE PIO Berlant (@CALFIRE_PIO) August 3, 2015
The wildfire was burning in Lake, Yolo and Colusa counties northwest of Sacramento. More than 12,100 people in more than 5,100 structures were under some type of evacuation order or advisory as of Sunday afternoon, according to the Cal Fire website.
Almost 2,000 fire personnel, 180 engines, four air tankers and 19 helicopters are battling the Rocky Fire.
Little relief after dark
Nighttime typically allows firefighters to make headway against wildfires because humidity will go up and fire activity will die down, but that hasn't been the case with the Rocky Fire, Berlant said.
"This fire was very active throughout the night," he told KCRA. "It was really burning very fast, all the way up into the late hours, so unfortunately we're really not getting a break."
The Rocky Fire was one of two dozen wildfires burning in California on Sunday. More than 8,000 firefighters were involved statewide, helped by the addition of large air tankers, including at least one National Guard C-130, Berlant said.
California Gov. Jerry Brown declared a state of emergency Friday, mobilizing the National Guard to support the disaster response.
Berlant said the dry conditions mean there's been little benefit from the cooler temperatures over the past week.
Lightning is also a problem. There have been several thousand lighting strikes over the past three days, igniting several hundred small wildfires in the northern part of the state — and the accompanying thunderstorms have produced little or no rain, Berlant said.
One fireman was killed in the line of duty.
The U.S. Forest Service confirmed David Ruhl, a father of two from Rapid City, South Dakota, died fighting the Frog Fire in Northern California's Modoc National Forest near Adin. Rescuers found Ruhl's body Friday morning, the Forest Service said, adding that his death remains under investigation.
— Black Hills NF (@BlackHillsNF) August 1, 2015
Progress in other places
Authorities reported strides in two other fires: the Willow Fire northeast of North Fork in the Sierra National Forest and the Cabin Fire east of Porterville in the Sequoia National Forest.
The Willow Fire is 60% contained, and firefighters made "good progress" with a controlled-burn operation intended to deprive the blaze of more fuel, the South Central Sierra Interagency Incident Management Team said.
"Air resources will support ground crew as needed (as) soon as smoke conditions clear and allow for safe aerial operations," the team said.
Evacuation orders remain in effect for those around the fire, which has already consumed more than 5,600 acres.
The Cabin Fire, which has burned 2,600 acres since mid-July, remained relatively calm overnight, but it was only 2% contained, according to a news release from the Sequoia National Forest.
"If the weather conditions are favorable today, firefighters may begin strategic firing operation near Pecks (Canyon) to remove unburned fuels between the fire line and the main fire in the afternoon," the statement said.
Neither the Willow nor the Cabin fires has destroyed any structures, but six people have been injured in the Willow Fire.
Fires big and small
The fires vary in size. The White Fire in Santa Barbara County is about 50 acres, and the deadly Frog Fire has consumed at least 3,900 acres since it was spotted Thursday and is just 4% contained. The recently snuffed-out Lake Fire in San Bernandino County burned more than 31,000 acres before it was contained.
Cal Fire says most of the fires are more than 60% contained. However, the land damage has been substantial in some cases. Fires in Southern California's San Bernardino County and Northern California's Alpine County have incinerated nearly 50,000 acres.
California's record-setting drought has "turned much of the state into a tinderbox," Brown said.
Temperatures in Sacramento and other areas of Northern California, where many of the fires are located, have topped 100 degrees recently.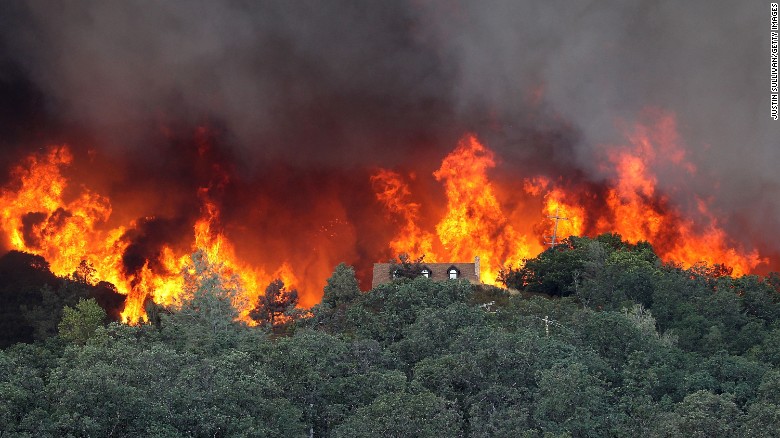 As reported by CNN