Memphis police identified 29-year-old Tremaine Wilbourn as the suspect in a weekend shooting of an officer.
Wilbourn is at large and considered armed and dangerous, Memphis Police Director Toney Armstrong told reporters late Sunday.
"You can be assured that we will continue to pursue this suspect, and we will exhaust all means until he is in custody," he said.
Officer Sean Bolton, 33, was shot multiple times Saturday night. He was taken to a hospital in critical condition but later pronounced dead.
"Last night, we lost not only an officer, but a great man, a dedicated servant to our community, and a family member," said Armstrong.
He provided a police account of Bolton's fatal encounter: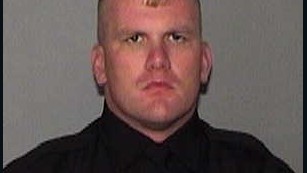 The officer had seen a car that was illegally parked and pulled in front of it, illuminating the vehicle with his spotlight. Bolton then approached the car and was confronted by a passenger.
A struggle ensued, ending when the passenger shot Bolton multiple times. Both the driver and the suspect fled.
"It was found that Officer Bolton apparently interrupted some sort of drug transaction. A digital scene and a small baggie of marijuana … were located inside of the vehicle," Armstrong said.
The vehicle's driver later turned himself into police and was released without charge.
Authorities are offering a $10,000 reward for information leading to the arrest of Wilbourn, who is out on supervised release for a 121-month sentence for robbery, according to Armstrong.
He said this is the third time a Memphis police officer has been killed in the past four years.
"It doesn't get any easier. This is a very difficult time, not only for me as director, but for all the officers you see standing behind me," he told reporters early Sunday morning.
"And (it's) a difficult time for our city as well. So I ask that you give us the respect that we need … and the space that we need to grieve, and the time that we need to prepare to lay our brother to rest."
The shooting of the officer follows a series of incidents across the country in which police have been accused of using excessive force during traffic stops.
Former University of Cincinnati Police Officer Ray Tensing faces charges of murder and voluntary manslaughter for shooting Samuel DuBose in the head during a traffic stop July 19. DuBose's death reignited a familiar chant across the country: "Black lives matter."
It's unclear what led to Bolton's shooting in Memphis, but the police chief said it highlights the risks police officers face every day.
"We say so often … do black lives matter? And at the end of the day, we have to ask ourselves, do all lives matter — regardless of race, creed, color, economic status, what profession that person holds? All lives matter," Armstrong said.
"This is just a reminder of how dangerous this job is."
As reported by CNN