Atlanta – Family and friends said goodbye Saturday to Bobbi Kristina Brown, the only child of the late Whitney Houston and singer Bobby Brown, at a private funeral just north of Atlanta.
The body of Brown, 22, was carried in a silver casket to St. James United Methodist Church in Alpharetta, where the invitation-only service included grandmother Cissy Houston; Bobby Brown and his wife, Alicia; and celebrities including media mogul Tyler Perry and singer Monica.
They arrived in a motorcade of limousines, led by police motorcycles.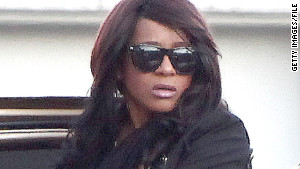 Brown died in hospice care July 26, six months after being found face down and unresponsive in a bathtub at her suburban Atlanta home. She never regained consciousness after the incident, and her months of medical care exposed family rifts that never seemed to heal.
Brown's partner Nick Gordon, who discovered her in the bathtub, repeatedly said on social media that he was not allowed to see her in the hospital. Entertainment Tonight and People magazine reported Gordon was absent from the funeral.
In June, a civil lawsuit was filed against Gordon in the Superior Court of Fulton County, Georgia, alleging that he accessed Brown's bank accounts and stole more than $11,000.
There were also reports the family was fighting over her care, though Bobby Brown said in June the family was working together on his daughter's behalf.
The family drama continued even at the funeral. In the middle of the service, Brown's aunt, Leolah Brown, walked over to the media gathered outside the church and said she had just been kicked out for shouting at Pat Houston, Whitney's sister-in-law.
"It went wonderful until Pat started speaking, and I didn't like that," Leolah Brown said.
Whatever dispute the two women have "is going to be a long, drawn-out thing," Brown promised. "Trust me. It's not over."
Bobbi Kristina Brown's body will be flown to New Jersey, where a private burial is scheduled for Monday next to her mother's grave, CNN affiliate WSB reported.
As reported by CNN