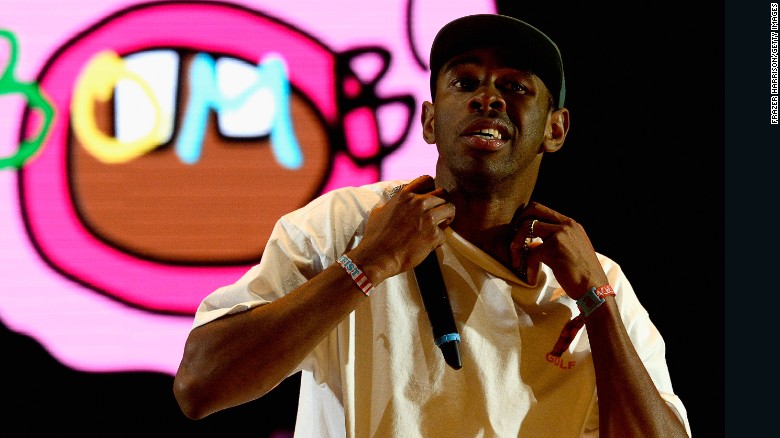 An Australian feminist has received online death and rape threats from fans of U.S. rapper Tyler the Creator after he mistakenly claimed she had had him banned from the country.
Tyler, whose real name is Tyler Okonma, tweeted to his2.48 million Twitter followers on Monday that he had been denied a visa to play scheduled shows in Australia from September 3 to 8.
"You won @CoralieAlison I'm happy for you," he wrote, in a post that was retweeted more than 4,500 times.
The comment unleashed a torrent of abusive tweets, many of them threatening and misogynistic, towards Coralie Alison, director of operations for Collective Shout.
Collective Shout is an Australian feminist organization which has campaigned to have the rapper kept out of Australia.
"I'm coming to kill you," wrote one user in a tweet directed at Alison," as another tweeted that he had obtained her address.
"We will all rape you," wrote another.
Claim incorrect
Tyler's post was incorrect though, as his Australian tour promoter and Australia's Department of Immigration and Border Protection later clarified.
The performer's visa was still being assessed, a department spokesperson told CNN via email, adding that "in cases where a person is assessed as representing a risk that they may vilify or incite discord, or otherwise represent a danger to the Australian community, a person may be refused a visa."
Collective Shout began campaigning against the performer — who is the leader of leftfield hip hop collective Odd Future — in 2013, on the grounds that his lyrics incite hatred towards women.
"There is an epidemic of violence against women," Alison told CNN via email.
"We can't have a national plan to reduce violence against women at the same time as rolling out the red carpet for rap artists with his history."
While she said she had coped with the online abuse, she found it concerning.
"As activists we are used to receiving abuse. But abuse from Tyler's fans is particularly aggressive," she said.
"I have a thick skin so I don't let it get to me, however it does raise concerns when those that listen to Tyler's music go on to make rape and death threats. I draw a correlation."
'Misogynistic hate speech'
In a letter to Immigration Minister Peter Dutton on Collective Shout's website, the organization cites a lyric referencing strangling and chopping up a woman and raping her corpse as an example of the rapper's "misogynistic hate speech."
"The messages (propagated) in these lyrics pose particular risk to the Australian community by conveying the message that interpersonal conflict might be legitimately resolved through violence," the letter reads.
In June 2013, when Collective Shout activist Talitha Stone led the group's campaign for Tyler's visa to perform in Australia to be revoked, she was barraged with misogynistic threats from his fans.
When she attended Tyler's show at Sydney's Enmore Theater, the rapper, apparently unaware she was present, abused her from the stage, saying "f***ing b*tch, I wish she could hear me call her a b*tch, too, f***ing whore."
New Zealand ban
Tyler's group, Odd Future, was subsequently banned from performing in New Zealand at a 2014 festival as they were deemed by officials to be "a potential threat to public order and the public interest for several reasons, including incidents at past performances in which they have incited violence."
Odd Future had previously been dropped from a New Zealand festival bill following pressure from lobbyists.
Tyler, who had earlier tweeted the Melbourne was his "favorite place," responded to the controversy with a tweet stressing that he was not responsible for his fans' actions.
"I am so bummed that I can't go to a place that I fell in love with, it sucks, but yo, I am not responsible for what others say, no way, ever," he wrote.
As reported by CNN