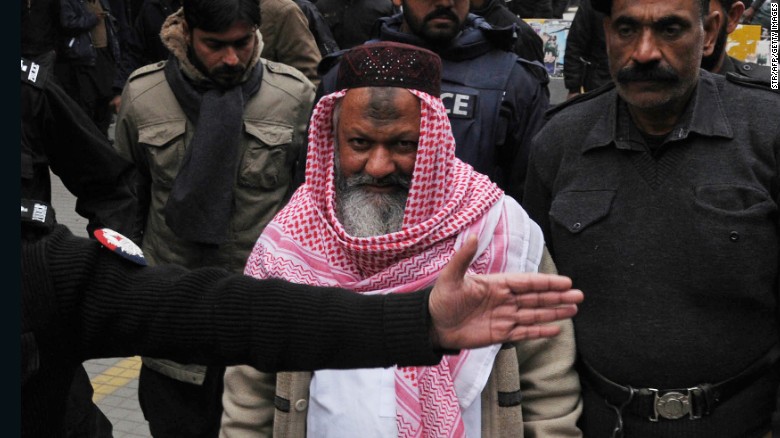 Islamabad, Pakistan (CNN)Pakistani police have killed the leader of an al Qaeda-linked militant group that has repeatedly carried out deadly attacks on the country's Shiite Muslim minority in recent years, authorities said Wednesday.
Malik Ishaq, the head of Lashkar-e-Jhangvi, was killed during a shootout after armed men on motorcycles ambushed a police convoy that was transporting him between prisons in Punjab province, Pakistan's Counter Terrorism Department said.
Lashkar-e-Jhangvi is known for targeting Shiites in Sunni-majority Pakistan, including a series of bombings in early 2013 that left more than 160 people dead in Balochistan province. Ishaq wasdetained by authorities soon after those attacks.
In the clash with police early Wednesday, the motorcycle-riding attackers freed Ishaq and two of his sons in the ambush, but police responded with gunfire that killed the terrorist leader, both of his sons and 12 others, authorities said.
The other militants fled the scene, according to the Counter Terrorism Department. Six police officials were injured, it said.
Police had taken Ishaq and his two sons to another prison to assist in identifying confiscated arms and explosives, authorities said. The ambush was reported to have taken place around 3 a.m., during the return journey.
Officials are investigating the attack.
Ishaq was believed to have been the mastermind behind the 2009 attack on the Sri Lankan cricket team in Lahore, the main city in Punjab.
More recently, Laskhar-e Jhangvi claimed responsibility for the January 2014 bombing of a bus carrying Shiite pilgrims that killed more than 20 people.
The group was outlawed in Pakistan in 2001 and designated a terrorist organization by the U.S. State Department in 2003.
The Counter Terrorism Department described Ishaq's death as "a big blow" to terrorist organizations in southern Punjab.
As reported by CNN