Anbessa Teferra becomes senior lecturer of Semitic Languages at Tel Aviv University 15 years after obtaining his PhD; says his appointment gives message of hope to young Ethiopians: If you work hard, all doors open for you'.
Fifteen years after getting his PhD, Anbessa Teferra has become the first Ethiopian immigrant to attain the status of senior lecturer at an Israeli university.
"I was chosed to be a senior lecturer not because of the color of my skin, nor because of my origins. Seven professors recommended me. I published 20 academic articles and three books. But even though I was elected on the basis of excellence, as is common in academia, I am still pleased to serve as an inspiration to young Ethiopians," said Dr. Teferra, who teaches Semitic languages at the Department of Hebrew Culture Studies in Tel Aviv University.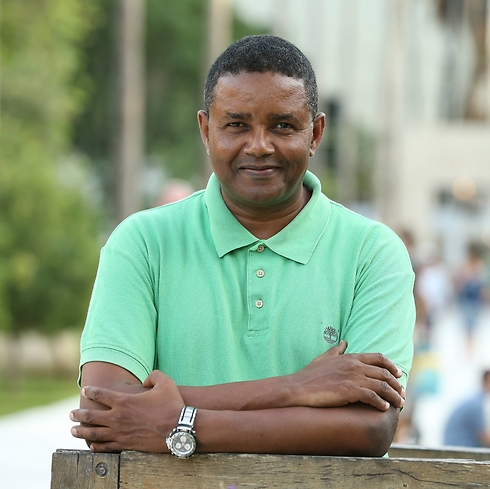 Fifteen years ago, Teferra made history when he became the first Ethiopian immigrant to receives a doctorate degree.
He devotes most of his time and energy to his academic pursuits, but at the end of a conversation in which he talks about the differences and similarities between Amharic and other languages common in Ethiopia, and Semitic languages we are familiar with such as Hebrew and Arabic, he suddenly asks if I remember the massive demonstration held by Ethiopian community two months ago.
He is passionate about the advancement and integration of the members of his community.
"My appointment as a senior faculty member with tenure is a first in Israel for the Ethiopian community, and it makes me very happy. But I know it's a small step for me, as the astronaut Neil Armstrong said, but it's a big step for the community. I want to serve as a role model for the young people in the community, so that they understand the reality: If you invest and study diligently, all doors open for you," said Teferra.
Anbessa Teferra was born in Ethiopia in 1962, where he received his bachelor's and master's degrees in linguistics at the University of Addis Ababa, where he was a professor for five years. He made aliyah in 1989, with his wife and children joining him later on. They live in Hadera.
The preparation for his Phd was done at Tel Aviv University and he completed his doctoral studies at the Hebrew University in Jerusalem, where he taught Amharic. In recent years, he was a teaching fellow at Tel Aviv University, and now he has been appointed senior lecturer and faculty member.
Beyond academic research and teaching, Teferra has also been teaching Amharic for Israeli high school matriculation exams for 13 years, and serves as the national supervisor of Amharic studies for the Ministry of Education.
As reported by Ynetnews