16-year-old boy from a religious family fled his treatments at the Rambam Medical Center in Haifa, and was forced back against his parents' wishes following a court ruling.
Science vs. religion, life vs. death – these were the issues a 16-year-old boy from the Tiberias area had to face as he fled from chemotherapy last Wednesday despite a court order requiring that he undergoes the treatment.
"It's not only the treatment that can help, there are also prayers that can help," the teen told Ynet. "The treatment doesn't help me; it only harms me and I won't be able to handle it."
In accordance with the court ruling, police found the youth and returned him to Rambam Medical Center in Haifa.
The child was diagnosed with acute lymphoblastic leukemia (ALL) when he was just nine-years-old. He was treated and eventually recovered. The illness recurred in February 2014, however, and the teen underwent successful surgery, after which doctors requested that he undergo a regiment of treatment meant to prevent a third reoccurrence of the cancer.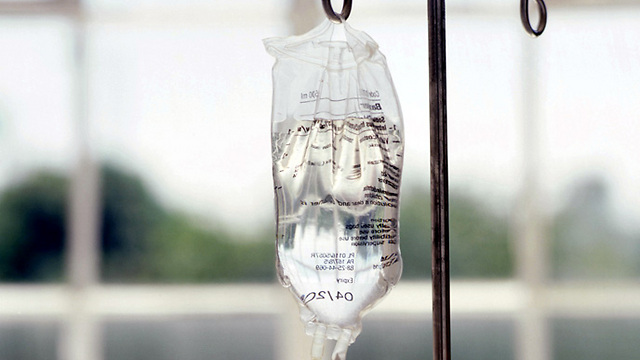 The teen and his parents refused the treatment after confiding in a rabbi who decided that the treatments were not necessary and saying that they caused him pain.
Officials then brought the case before the court, where judges ruled that the teen would be required to submit to the doctor's wishes
The family's lawyer, Efi Damari, said that he would appeal the court's decision. "We think that it is only logical that the court would take into account the child's wishes. If he is having a hard time, and can no longer stand the treatments, I would recommend the court listens to him before making its decision, and not force him into more difficult treatments that are not sure to help him."
Rambam officials said that the child has been in their care for over a year, "All staff involved have uncompromisingly invested their time and energy in order to save his life, including frequent calls to social services and the courts."
"We are talking about a child who is suffering from a treatable oncological disease, if only his family would cooperate and bring the minor to his treatments. Social and legal services had to intervene, and mandate the child's return to treatment, due to the fact that the child's parents, who are his custodians by law, and the child, refuse to cooperate with the medical staff – under unprofessional advice from certain entities."
As reported by Ynetnews