Nashua, New Hampshire – Hillary Clinton on Tuesday declined to say whether she supported the Keystone XL pipeline expansion, telling a New Hampshire voter that if the matter is still undecided by the time she becomes president, she will give him an answer then.
"I am not going to second guess (President Barack Obama) because I was in a position to set this in motion," Clinton said, referencing environmental reviews conducted by the State Department that began when she was secretary of state. "I want to wait and see what he and Secretary Kerry decide."
She added, "If it is undecided when I become president, I will answer your question."
The question came from Bruce Blodgett, a software developer from Amherst, New Hampshire, who told CNN he identifies as a Republican and supports building the pipeline, the 1,179-mile-long project that would move oil from Canada to refineries in the United States.
During a town hall in Nashua, Blodgett asked, "As president, would you sign a bill, yes or no please, in favor of allowing the Keystone XL pipeline?"
"I thought she avoided the question completely. Her excuse was she didn't want to step on President Obama while he was still in office," he said. "I just thought that was a very weak answer. I just wanted to know where she stands on it one way or another."
Blodgett supports building the pipeline, and said that because the oil would be used anyway, it might as well come to the United States. Most people who ask Clinton about Keystone as usually against the pipeline and push her to reject the plan.
"She is not willing to answer the question," he said. "She is putting it off until after the election. Her hope is that it won't matter. But it does matter to a lot of people."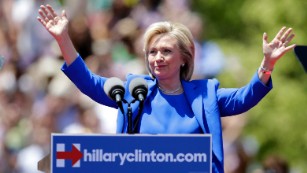 In a conversation with reporters after the event, Clinton stood by her decision to not answer the question.
"I've been very clear: I will not express an opinion until they (President Barack Obama and John Kerry) have made a decision, and then I will do so," she said. "If this is the number one issue on people's minds, then they're going to have to wait to see what Secretary Kerry and President Obama decide to do about it."
Hours later, Clinton's campaign team was still attempting to explain the non-answer.
"She is just in a different situation than other candidates," said Jennifer Palmieri, Clinton's communication director, said in a statement to CNN on Tuesday.
"Having the experience of being a former secretary of state distinguishes her and her candidacy, but it comes with responsibilities that at times can limit her," she said. "But we know that the experience is well worth whatever price she may pay politically."
This is not the first time Clinton has declined to take a position on the Keystone XL pipeline. Throughout much of 2013 and 2014, Clinton criss-crossed the country on the paid speaking circuit and later on her book tour. She was asked about Keystone a number of times, particularly in Canada, where the pipeline would originate. At no point did she take a position, however.
Clinton outlined her plan to combat climate change on Monday in Iowa. The plan focused heavily on solar power and did not mention arctic drilling, Keystone and a host of other issues environmentalists hope Clinton will address.
Clinton's aides have said Monday's plan was just the start and that there are more details to come.
Former Maryland Gov. Martin O'Malley and Vermont Sen. Bernie Sanders, Clinton's two most stout 2016 Democratic opponents, have come out against the pipeline.
"It is hard for me to understand how one can be concerned about climate change but not vigorously oppose the Keystone pipeline," Sanders said in a statement Tuesday afternoon.
As reported by CNN