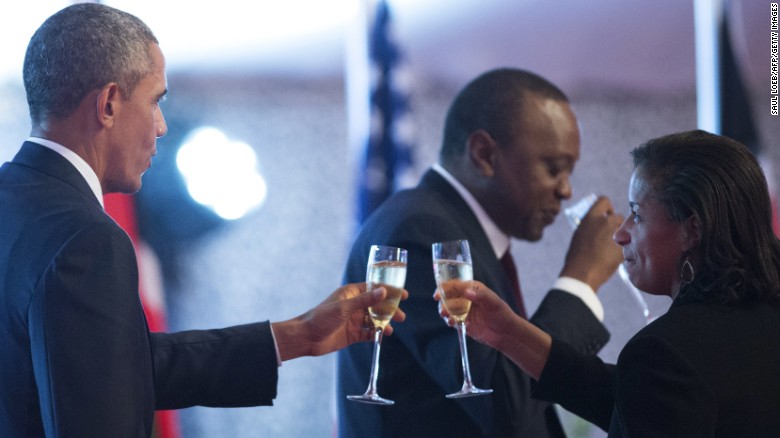 Nairobi, Kenya (CNN)President Barack Obama in Kenya on Saturday cracked a joke about the most famous conspiracy theory that has dogged him since he became commander-in-chief.
"I suspect that some of my critics back home are suspecting that I'm back here to look for my birth certificate," the President laughed while delivering a toast at a state dinner hosted by his Kenyan counterpart, President Uhuru Kenyatta. "That is not the case."
"Birthers" believe Obama, whose late father was born in Kenya, was not born in the United States and thus is unqualified to be President. The fringe movement began during the 2008 election season and persisted throughout Obama's first term in office, until he released his long-form birth certificate in 2011 that shows he was born in Hawaii.
Since then, the President has often joked about the conspiracy theory.
"If I did not love America, I wouldn't have moved here from Kenya," the President quipped earlier this year.
Donald Trump, a leading skeptic of Obama's claims that he was born in the United States, made headlines earlier this month when he told CNN's Anderson Cooper he still isn't totally convinced Obama was born in the United States.
"I don't know. I really don't know," he said.
This is Obama's first trip to Kenya as President. He had previously visited the country on three other occasions.
As reported by CNN