In his new movie 'Pixels,' funnyman and long-time Israel supporter is fighting to save the world from Pacman and Donkey Kong; his co-star Kevin James, who plays the US president, has some ideas on how to solve conflicts in the Middle East: 'I would start with a siesta every day for three hours'.
Remember the aliens from Space Invaders, the bugs in Centipedes and the gorilla from Donkey Kong? Remember Pacman and the flying cubes from Tetris? Well, the arcade games from the 80s are the real stars of the movie "Pixels."
But alongside the characters from the games, which were created using special effects, there are some flesh-and-blood actors in the sci-fi comedy, including several well-known and loved ones: Adam Sandler, Kevin James, Michelle Monaghan and of course Peter Dinklage, better known as Tyrion Lannister.
The movie from director Chris Columbus, which hit screens in Israel this week, has the human characters confronting with the pixilated ones, and it appears both sides are fighting for the hearts of the viewers as well.
"Pacman is still insanely popular," Sandler tells Ynet. "Every time we show the movie, they do this thing where they check awareness on our characters and how much they liked our characters. We do fine and then they say Pacman and it's 100 percent."
"That's why I'm going to do my next movie with Pacman," Kevin James declares.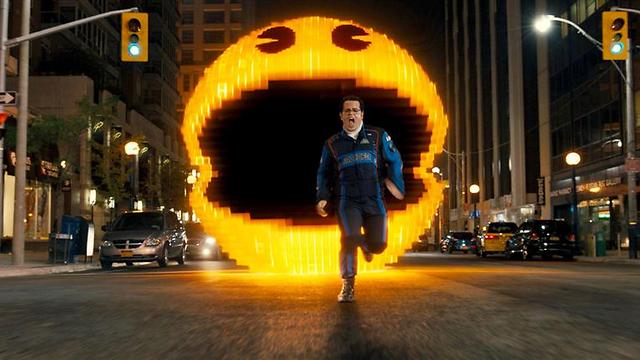 In "Pixels," which was developed from a short concept film by French animator Patrick Jean, Sandler, James and the others find themselves on the front lines of humanity's battle for survival against… Arcade games. If you're looking for some reasoning behind this bizarre encounter, then according to the movie's plot, a transmission sent long ago to outer space in an attempt to contact alien life forms incorporated the games from the 80s, and the aliens that saw them viewed them as a threat. So they decide to go on a pre-emptive strike against this threat.
The strike comes in the form of Pacman, Donkey Kong and the other characters from the old games, who pixilate our world. Before the "Game Over" message closes in on humanity, the President of the United States (Kevin James) turns to his childhood friend Sam Brenner (Sandler), a former champion of arcade games. Dangerous prisoner Eddie Plant (Dinklage), Brenner's rival from Pacman and Donkey Kong tournaments of yore, joins this daring action team, along with computer genius and geek Ludlow Lamonsoff (Josh Gad) and Lieutenant Colonel Violet van Patten (Michelle Monaghan) who provides the mature, female point of view. Sean Bean, Dan Aykroyd and tennis player Serena Williams also appear.
But with all due respect to the Wimbledon champion, the crew of beloved comedians and even Tyrion Lannister and Nedd Stark who appear in modern-day clothes for a change – the real stars of the movie and the source of its originality are Pacman and friends.
"Pacman and all of these games I think are actually still very relevant," says Gad, the youngest of the bunch, who was just born when Atari and Commodore computers were taking over homes all over America. "There's a simplicity to these games where you're simply a disembodied yellow head chasing down a bunch of ghosts as opposed to driving through open streets in Grand Theft Auto, which as a 34-year-old, I'm still confused how to do. So I think that there's a universality to all of these games and a recognizability to them that I think speaks to all generations."
Sandler, who is 48, experienced the 80s as a teenager, and the shooting for the movie brought him back to his old hobby at the arcades or at home with the joystick.
"It was fun to play the games again," he says. "I have a Pacman game at my house now. I never had that before."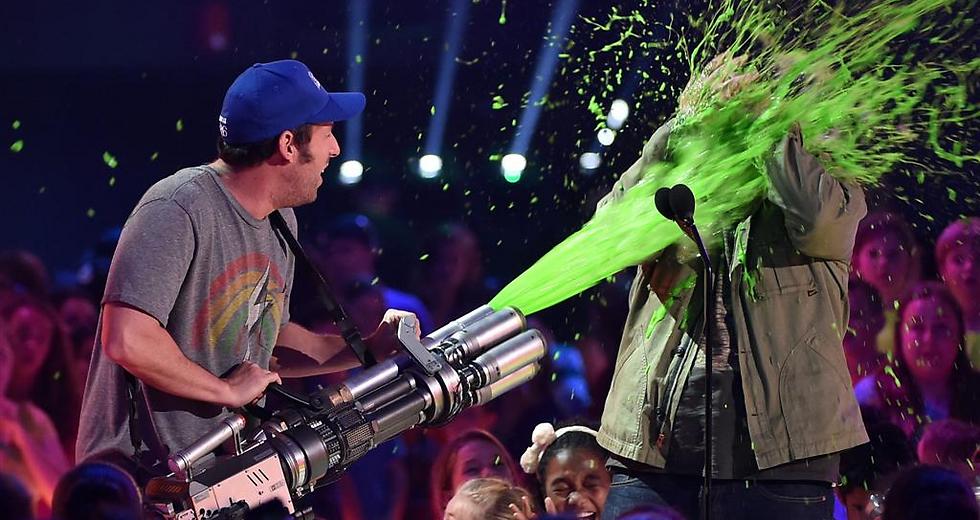 Gad, who is 34, also fondly remembers his childhood in the 80s – not just for the games, but also for the movies.
"There was an innocence of the eighties that I miss. Here's what I think is so great about 'Pixels' – everybody misses the movies from the eighties. There was a carefree attitude to all those Amblin movies."
Kevin James, who is 50, agrees: "You'd watch a movie because you wanted to see the movie. You wouldn't go, 'Hey, I wonder what that's going to make?' or 'That's going to be big.' There was none of that. There was, 'Wow, that looks great.'"
In Israel, Adam Sandler is well loved, and we often forgive him for silly comedies in bad taste like "Grown Ups," "Jack and Jill" and "That's My Boy," for which he won quite a few Razzies awards and received a lot of bad press.
The appreciation he gets from the Holy Land comes from the fact he is a lovable Jew who is proud of his love for the State of Israel. He even dedicated his movie "You Don't Mess with the Zohan" (2008) to us, the Israelis, and played the leading role of a Mossad agent.
He says he identifies with Israelis "a hundred percent," that he is a big supporter of the country, and that he hates it when Israel suffers from bad reputation in the media.
"I always had a great connection with Israel and the fact that the Israelis are like the Zohan, that makes me feel great," he adds.
Kevin James, who was also on "You Don't Mess With the Zohan," portrays the president of the United States, Will Cooper – an important role in real life, and also in the movie. As the leader of the world's biggest power, it appears even an invasion by scary aliens is a simpler problem than the troubles in the Middle East. And still, if you ask him to replace Barack Obama in real life, he has some useful tips on how to resolve the conflict.
"What I would start with is a siesta every day for everything, every day for three hours at three o'clock. I think Italy does it, right? Just taking time away from each other and enjoy some fine foods and some fine sleep," James says.
One person who didn't make the interview, unfortunately, but was there in spirit – is Dinklage, who plays the less likeable among the bunch, but lends a hand to save the world. While he's not part of the organic group of comedians that Sandler, James and Gad belong to, he fit in easily on the set and proved he wasn't just cunning like on "Game of Thrones," but also vulgar and funny.
"He was phenomenal," Sandler says. "A great man. Him and Josh Gad, I got to say had a love affair the whole time."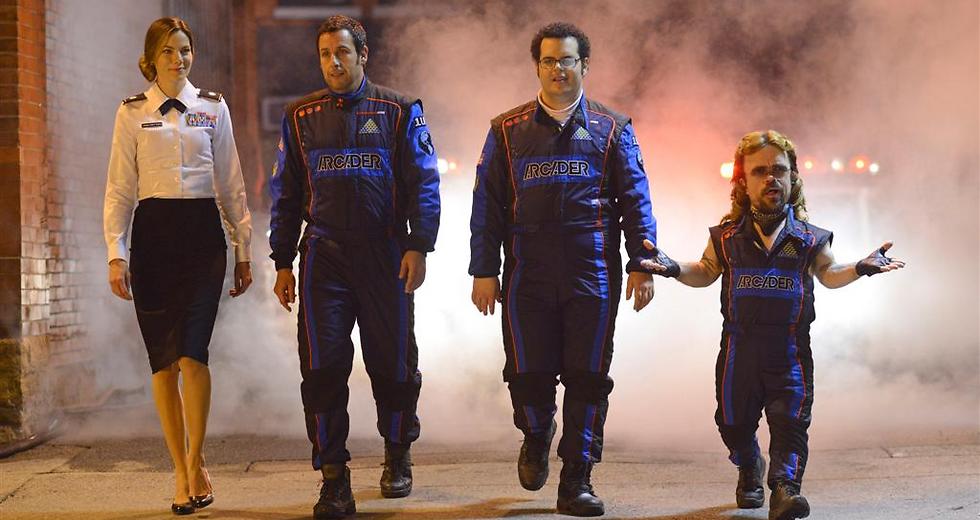 "I liked him until he started killing people on our set. That felt a little weird," Gad jokes. "Peter's the greatest. I think of all of us, I'm the one who watches 'Game of Thrones' the most religiously. So when we were filming towards the end of the season, I had an opportunity to watch the last three episodes with him. So I watched it with Peter and it was a very cool experience to see Tyrion Lannister commenting on Tyrion Lannister's bath injury."
Like Dinklage, 39-year-old Monaghan is also not really known as a comedian. We saw her in serious roles like on "True Detective" (as Marty Hart's wife) and the war drama "Fort Bliss," as well as action movies like "Mission: Impossible – Ghost Protocol," alongside Tom Cruise and "Source Code," alongside Jake Gyllenhaal. Acting alongside the group of comedians was an enriching, delightful and mostly funny experience for her.
"I never stop smiling. I mean honestly," she says. "I mean we know how fun and funny they are. They're so talented, but I got to tell you. This is one of the best times that I've ever had making a movie and sincerely when we weren't shooting, we were all hanging out."
As reported by Ynetnews