A 15 year old trying to make money for his summer break is fined and harrassed by police for selling lemonade in the town of Kadima; Police: This is a stand peddling without a license.
Israeli police have apparently wiped out all the crime in the country, and can now finally focus on public enemy number one – a 15-year-old boy on summer vacation, selling lemonade on the sidewalk in the town of Kadima.
Police acted quickly and fearlessly, considering his business to be a supreme peril to civilized society.
Residents of Kadima are familiar with the boy that for years during the summer break sets up a stand on the corner selling lemonade to passers-by. "I've been doing this every summer since the fourth grade. I sell lemonade to have money to spend during the summer vacation. I don't bother or hurt anyone, but this year all of a sudden the police started harassing me," says the boy.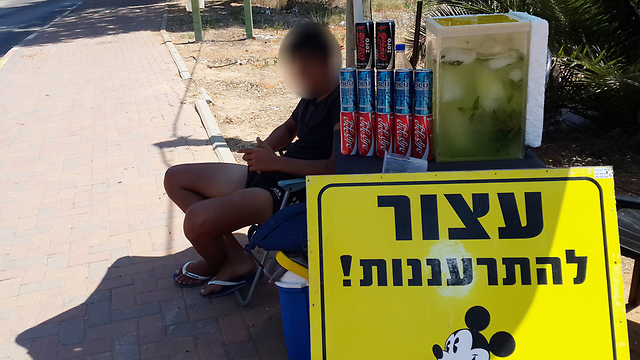 This year the police decided to put an end to the racket and do away with the lawless individual once and for all. "A week ago, a policeman came by in a police car and told me to move from where I was set up. My stand was in the shade under a tree, and I moved to the side and was in the sun but it was not enough for them. The police came day after day and they gave me two tickets, each amounting to 250 shekels."
The reports were not the end of it, and the boy claimed that the police even threatened him. The boy recounted, "One day a policeman came by and he would overturn my stand if I didn't get lost. One day I was listening to music, and the cop threatened to confiscate my speaker, even though it was in the middle of the day and wasn't bothering anybody.
"I don't understand why they harass me. We went near the police station and photographed police cars parked on the sidewalk, blocking them. That does not bother them, but my little stand (does)."
The boy's father was furious with the police: "Why harass him? I spoke with the local council and the stand doesn't bother them. I went to the police station and talked to the station commander, Chief Superintendent Moshe Pinchi, but to no avail. I went once again to the station and they threw me out. They've left me no choice but to file a complaint with the Police Investigation Unit regarding their conduct."
Police said in response: "This is a stand peddling without a license. It obstructs traffic and endangers those on the road. The father of the child talked to the station commander." According to police, the father justified the police action, but the father denies it.
As reported by Ynetnews