A dating website that helps married people cheat has been hit by hackers who threatened to release information about millions of customers.
Ashley Madison, which uses the advertising slogan "Life is short. Have an affair," said Monday it had been attacked and some user data was stolen.
So far, though, it isn't easy to find the exposed cheaters online. That could change soon if the hackers decide to publish the information on a public website.
Brian Krebs, the blogger who first reported the breach, said the hackers were threatening to release all Ashley Madison's customer records if the website isn't shut down.
The hackers called themselves the "Impact Team," and the potential release includes "profiles with all the customers' secret sexual fantasies and matching credit card transactions, real names and addresses, and employee documents and emails."
In a statement, Avid Life Media, the parent company, said: "At this time, we have been able to secure our sites, and close the unauthorized access points. We are working with law enforcement agencies, which are investigating this criminal act."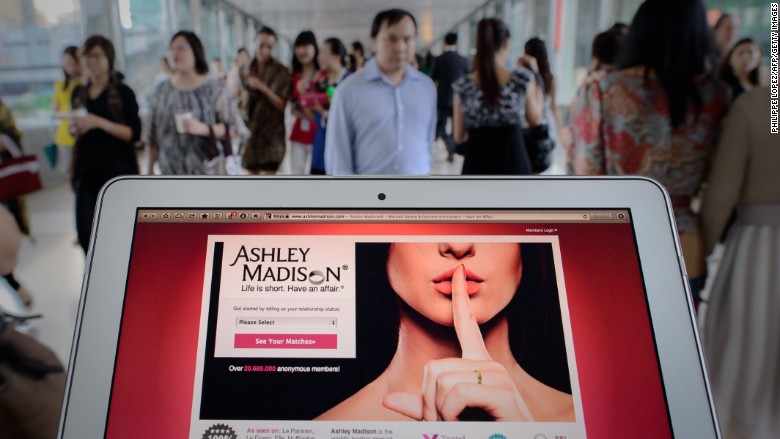 Ashley Madison is a dating website, with one important twist: Instead of connecting eligible singles, it caters to married people interested in having an affair. The site claims to have 37 million members, and has in the past bragged about its data security.
The site is an obvious target for hackers. After all, its databases have enormous potential for use in blackmail schemes.
The hackers — or hacker, perhaps — appear to be upset over the company's "full delete" service, which promises to completely erase a user's profile, and all associated data, for a $19 fee.
"Full Delete netted [Avid Life Media] $1.7 million in revenue in 2014. It's also a complete lie," the hackers were quoted as saying in a manifesto published by Krebs. "Users almost always pay with credit card; their purchase details are not removed as promised, and include real names and address, which is of course the most important information the users want removed."
On Monday afternoon, the company defended the service, and also said it would make it free.
Avid Life Media also said that it had hired "one of the world's top IT security teams" to work on the breach.
The hack follows a similar event in March, when more than 3.5 million people's sexual preferences, fetishes and secrets were exposed after dating site Adult FriendFinder was hacked.
Adult FriendFinder, which boasts 64 million members, claims to have "helped millions of people find traditional partners, swinger groups, threesomes, and a variety of other alternative partners."
Included in the exposed personal information are customers' email addresses, usernames, passwords, birthdays and zip codes, in addition to their sexual preferences.
As reported by CNN