A surfing competition in South Africa was canceled Sunday after professional surfer Mick Fanningescaped a shark attack in the opening minutes of the final heat.
Organizers of the J-Bay Open, the sixth stop on the 2015 Samsung Galaxy World Surf League Championship Tour, called off the remainder of the competition. After discussion with WSL Commissioner Kieren Perrow, Fanning and competitor Julian Wilson decided to take equal second in rankings points and split the prize purse awarded to the winner.
"We are incredibly grateful that no one was seriously injured today. Mick's composure and quick acting in the face of a terrifying situation was nothing short of heroic and the rapid response of our water safety personnel was commendable," Perrow said in a statement.
Video of the incident shows at least one shark fin circling the World Surf League champion. Fanning spots it and starts furiously paddling away.
A wave obscures what happens next, but when Fanning comes back into view he is still swimming away, this time without his board. Safety boats quickly arrive and pluck Fanning from the water.
Fanning escaped with a severed leash on his surfboard. He told World Surf League TV that he "punched" the shark in the back to scare it away.
The Water Safety Team also pulled Wilson out of the water.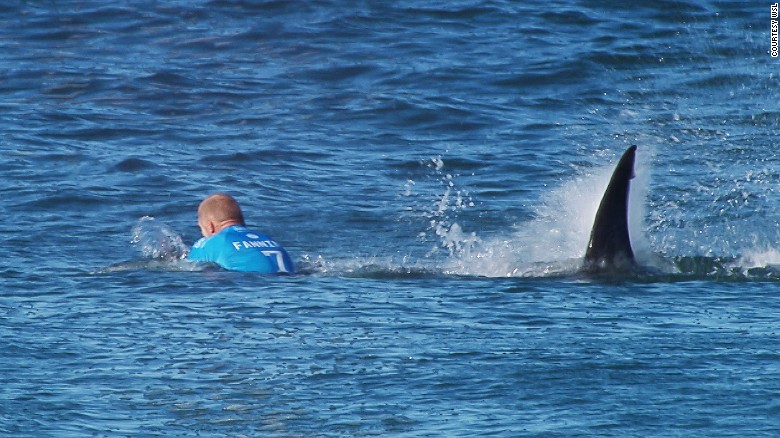 "I had this feeling that something was behind (me), and all of a sudden I felt like I started getting pulled underwater. And then the thing came up and I was on my board and it was right there," he said.
"I had this thought, 'What if it comes around for another go at me?'" he said. "Before I knew it, the boat was there. … I can't believe it, I was tripping out. I'm totally tripping out."
It is not clear whether there was more than one shark, WSL spokeman Dave Prodan told CNN.
The incident rattled the surfing community, which breathed a collective sigh of relief over news of the rescues. In an interview after the incident, Wilson struggled for composure as he recalled watching Manning get knocked off his board.
WSL Chief Executive Paul Speaker expressed relief that the competitors escaped unscathed. He commended everyone involved in the rescue, including Wilson, who was "sprint paddling to get to his friend."
"We kind of coexist with sharks in the water. We go to places that certainly have the greatest waves in the world. But it comes with some danger," he told CNN.
"It's a very unpredictable sport. i think that's what draws many of the athletes to it."
As reported by CNN