Kabbalist Rabbi Ezra Scheinberg, who founded a yeshiva and a devoted community in Safed and became famous across Israel for his alleged supernatural powers, tries to flee the country following suspicions that he raped and molested 10 women who sought his advice.
Kabbalist Rabbi Ezra Scheinberg, head of the Orot HaAri community and yeshiva in the northern city of Safed, is suspected of committing sexual offenses on women who arrived to consult him, the Supreme Court cleared for publication last week.
Ten women have filed complaint against Scheinberg so far. The 47-year-rabbi's remand was extended by eight days last Wednesday.
In addition to his arrest, Rabbi Scheinberg was also suspended from the yeshiva and removed from his city at the decision of several rabbis, led by Safed's Chief Rabbi Shmuel Eliyahu.
Before he was arrested, the rabbi allegedly tried to escape abroad but was detained at Ben-Gurion Airport. He was taken in for questioning by the Safed Police, which have already received 10 complaints against him from women who were allegedly raped and molested by him.
The Orot HaAri students are still shocked by the arrest and suspicions against their former yeshiva head and are finding it difficult to accept that the great kabbalist, who many of them had asked for advice and for blessings, is now being portrayed as a sex offender.
A huge trash can has been placed in one of the rooms in the yeshiva, and all of Rabbi Scheinberg's writings and books have been tossed in it. "From here they will be archived and buried. Rabbi Scheinberg has become an abomination in the eyes of the students," said Gad Cohen, a rabbi and teacher at the yeshiva who had worked with Scheinberg for seven years.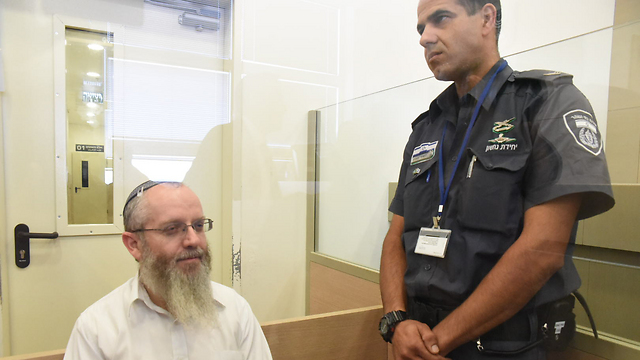 Rabbi Scheinberg is married and has eight children and grandchildren. He was considered one of the rising powers in Religious Zionism involved in the Jewish mystical doctrine of Kabbalah and a dominant rabbinical figure in the national-religious public in northern Israel.
Scheinberg grew up in Jerusalem and studied in the prestigious Netiv Meir high school yeshiva and at the Kiryat Shmona Hesder Yeshiva. He also served in the IDF Armored Corps. He continued his rabbinical studies and was affiliated with famous rabbis. In the past 15 years, he became famous as a "scholar" who teaches Torah and as a "righteous man" with spiritual supernatural powers.
Despite his young age, he gained the support of community leaders and founded a successful yeshiva with Hasidic elements with their approval and authorization, surrounded by a devoted community.
Scheinberg attracted men and women from across the country, both religious and secular, who sought his blessing or advice about a name for their newborn or shared intimate details with him so that he could help them find a match, conceive or settle a marital dispute. The rabbi had a lot of power over his community members, and his followers accepted his requests and demands.
Scheinberg was considered the protégé of former Chief Rabbi Mordechai Eliyahu, who was one of the leaders of Religious Zionism. Scheinberg's power increased after Eliyahu's death in 2010, and many of the late rabbi's followers began following him.
Over the years, a devoted flock developed around him. The yeshiva and the kollel (an advanced Jewish studies program for married men) which he founded in Safed include about 100 students and his community is made up of some 40 families. The wider circles includes many other followers across the country who have heard about his virtues and sought to study with him.
As Scheinberg's activity was based in Safed, he developed close ties with the city's chief rabbi, Shmuel Eliyahu, who is considered the supreme spiritual figure in the yeshiva's community.
Scheinberg was arrested last Wednesday at Ben-Gurion Airport while attempting to leave Israel. It happened after his students accepted – almost indisputably – the ruling delivered by the court established by Rabbi Eliyahu, that Scheinberg had hurt women and must leave the community.
A., one of Scheinberg's students who kept in touch with him even after he graduated from the yeshiva says that "there was an aura around him of a kabbalist rabbi who does wonders. We saw a person arriving at the yeshiva on the dot, studying and giving lessons. He was attentive to hundreds of appeals on a daily basis and was ready to listen to people.
"We mainly saw a rabbi who was valued by the greatest rabbis and appreciated by the public. There is a gap between the person we knew and the suspicions which is hard to comprehend. After we realized what happened, we all renounced this rabbi as one. There is no one who wants to defend him. There is no one who denies it. On the contrary."
'Warn the public against him'
Judge Uri Shoham decided to clear the rabbi's name for publication in order to "encourage other complainants, who have requested not to expose themselves until now, to testify about what the suspect did to theme. There is also room to warn the public against him."
The judge further wrote, "As for the damage which the suspect may suffer from the publication, including his medical and personal situation, I found that it is not enough to prevent the publication of his name. The damages the suspect points to are no different from the damages of any person subject to a criminal investigation for serious offenses like these, and it makes no difference that the suspect is a famous person whose identity is known by his community members."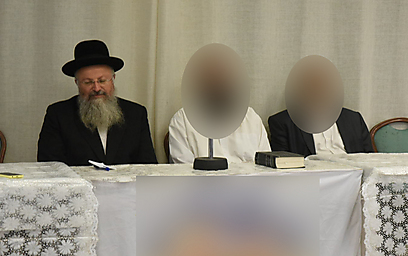 Rabbi Eliyahu said after the affair was revealed, "It's a damaging attack. The rabbi is evil. At first we thought that his actions were simply a moral breakdown and had no criminal aspects, and we suggested that he stay away from the public. He accepted all the conditions, but didn't fulfill them. He continued talking to students and justifying his corrupt actions.
"We removed him from the city, and that gave the first woman the courage to complain after keeping the pain in her heart for 13 years. She was then followed by all the others."
Rabbi Eliyahu added during a meeting with rabbis and yeshiva students, "We are guilty. One of the women who complained was hurt 13 years ago, but refused to talk. She didn't think anyone would believe her. Only now, when the matter was raised, she felt she could complain.
"It's time to be more sensitive and attentive to the cry of humiliated women. If we improve in this area, we may be able to prevent the next damaging attack."
The rabbi said that when the suspicions against the Scheinberg were exposed, women fainted and yeshiva students tore their clothes. "I have met broken hearts across the country. We are experiencing a difficult crisis," he added.
Rabbi Scheinberg's student added, "We are crying. We have not eaten or slept for several days now. It's inconceivable. It's a shock, a horror. It's very difficult for anyone who saw this man as his rabbi, but luckily, our faith in God and in the Torah don't depend on him."
As reported by Ynetnews