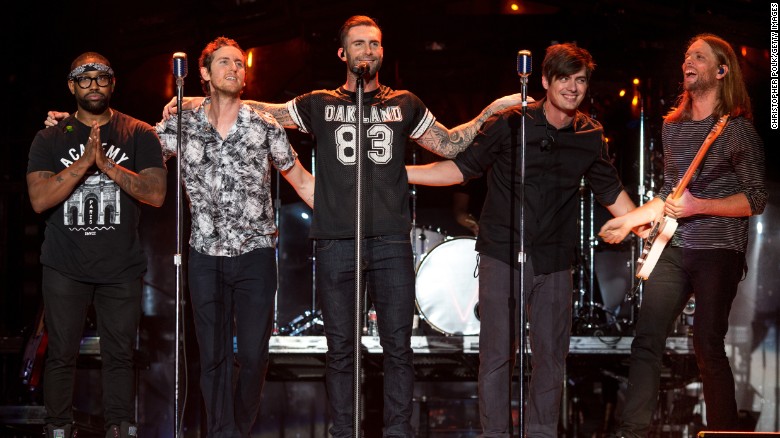 Beijing (CNN)Are Maroon 5 the latest band to have their China tour canceled because of supposed links to Tibet's exiled spiritual leader? Their fans think so.
On Thursday, tour organizer Live Nation abruptly canceled a September concert in Shanghai by the popular American rock band, without giving an explanation.
It didn't take long for their many disappointed fans to come up with a reason why, though.
Jesse Carmichael, one of the band members, attended a star-studded event on July 4 — Independence Day in the United States — near Los Angeles to celebrate the 80th birthday of the Dalai Lama, the Tibetan spiritual leader.
In a Twitter post from that evening, the musician sounded excited: "Happy Birthday America (and The Dalai Lama too) sang happy birthday to his holiness today with a…" followed by a link to Instagram, the photo-sharing site.
Both the tweet and the photo have been deleted, but acached version of his post is still available online.
The show was scrapped "for a reason," said Live Nation in a vaguely worded statement, before apologizing to the public and promising ticket buyers a quick refund.
Forced into exile after a failed uprising against Beijing's rule in 1959, the Dalai Lama — a Nobel peace laureate — is despised by the ruling Communist leadership as a separatist who is trying to split Tibet from China.
The Chinese foreign ministry reacted angrily recently when Valerie Jarrett, a senior adviser to U.S. President Barack Obama, joined the Dalai Lama's birthday celebrations in New York on July 10 despite objections from Beijing.
"We urge the U.S. side to stop providing any convenience and support to the 'Tibet independence' forces lest China-U.S. relations be disrupted and jeopardized," said spokesperson Hua Chunying in a statement.
CNN's repeated phone calls to Shanghai's culture bureau, which approves concerts, went unanswered Thursday.
Performers banned
If its member's connection to the Dalai Lama cost Maroon 5 its China tour, the band would have plenty of company.
Linkin Park, another popular American rock band, was barred from China in 2011 after they were photographed embracing and shaking hands with the Dalai Lama at a youth conference in Los Angeles.
Linkin Park will finally make a return after a six-year hiatus, holding concerts in Shanghai and Beijing next week.
Bans on other musicians are more permanent.
Bjork, the Icelandic singer, chanted "Tibet! Tibet!" at the end of her song "Declare Independence" during a 2008 show in Shanghai. She has not been allowed back.
And British rock band Oasis had their 2008 China tour dates canceled because of an earlier appearance at a Free Tibet concert.
Clearly upset about the news of the cancellation, some Chinese fans of Maroon 5 blew off steam Thursday by posting a picture on social media.
It simply showed the title of one of the band's latest hits: "This Summer's Gonna Hurt like a Motherf—-r."
As reported by CNN