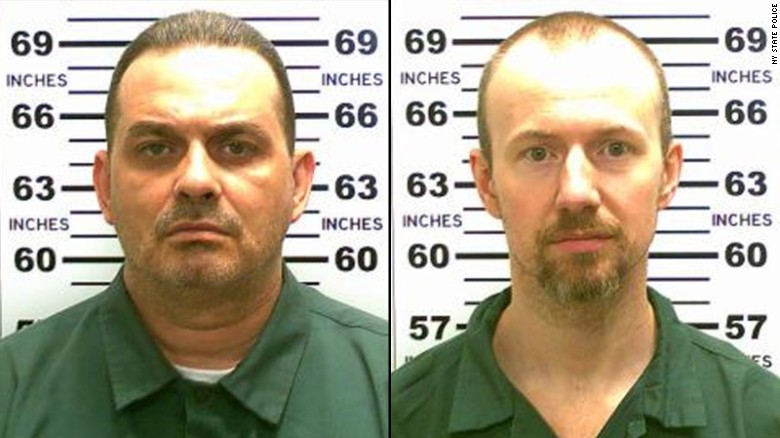 Former fugitive David Sweat has been discharged from the infirmary at an upstate New York prison and transferred to a special housing unit, state corrections officials said Wednesday.
Sweat was shot and captured by law enforcement on June 28 after 22 days on the run. His breakout partner Richard Matt was shot and killed several days before Sweat was caught. The convicted murderers drilled their way out of a maximum-security prison on June 6.
With the move to the special housing unit at Five Points Correctional Facility in upstate Romulus, officials also filed formal disciplinary charges against Sweat in the elaborate escape from Clinton Correctional Facility in Dannemora, according to a release from the New York State Department of Corrections and Community Supervision.
"A hearing officer will determine the extent of Sweat's misconduct and, if appropriate, impose a penalty including continued placement within the Special Housing Unit," according to the statement.
Any criminal prosecution related to the escape will be handled by the Clinton County District Attorney's Office.
Sweat will be confined to a 105-square-foot cell for 23 hours a day. Each cell is equipped with a "bed, a writing platform, a toilet and sink, and a facility-controlled shower which will limit movement," according to a previous release. Sweat had been on suicide watch.
Opened in 2000, Five Points has almost 1,300 inmates and more than 500 security staff.
In addition to an internal disciplinary hearing, Sweat could face separate criminal charges in a New York state court, according to Karen Murtagh, the executive director of Prisoners' Legal Services of New York, a state-sponsored nonprofit that provides legal representation to New York state inmates.
The department can impose a long time solitary confinement, she said.
"It can be years and years and years. There is really no limit to how long they could sentence him to solitary," Murtagh said.
Solitary confinement can often mean that a prisoner cannot use the phone, receive packages or have access to a commissary, she said.
As reported by CNN