In new Twitter account, PM explains that 'the more the regime feels strong and impervious to foreign pressure, the more it increases domestic oppression'.
In an 11th-hour escalation of his lobbying against an expected nuclear deal between Iran and six world powers, Prime Minister Benjamin Netanyahu turned to the Iranian public on Monday with a new Farsi-language Twitter account.
An Israeli official said Netanyahu aimed to persuade ordinary Iranians they stood to lose from a deal that limits, but does not eliminate, Tehran's nuclear program because "the more the regime feels strong and impervious to foreign pressure, the more it increases domestic oppression".
Israel, not a party to the negotiations with Iran, has tried with little effect to get the terms imposed on its arch-foe toughened up. The talks, held in Vienna, appeared close to yielding a deal ahead of a midnight deadline.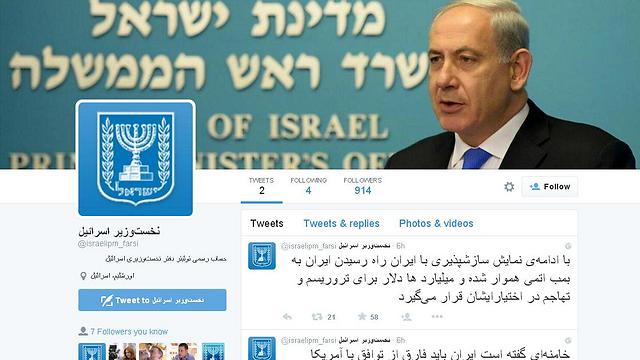 Tweets posted on Netanyahu's new account, @IsraeliPM_Farsi, restated his argument that such a deal would "pave the way for Iran to get nuclear bombs and billions of dollars for terrorism" and that the Iranian leadership should not be engaged diplomatically while it orchestrates anti-US "hate marches" on the streets of Tehran.
Netanyahu's office said the Farsi account will publish content similar to his English and Hebrew accounts to engage the Iranian people directly. Netanyahu has a popular following on Twitter and often tweets videos and photos with messages critical of the Iranian government and nuclear negotiations.
Meir Javedanfar, an Iranian-born Israeli analyst, said Netanyahu's aggressive rhetoric could backfire with his Iranian audience.
"I'm worried … Netanyahu is going to cause more damage if he continues with the same messages," he said.
The account quickly gained more than 900 followers, with many users mocking him and saying there was a grammatical mistake.
One spotted a syntax error in the account. Another suggested Netanyahu might be better off "explaining with a crude cartoon" – a reference to an illustration the Israeli prime minister held up during a UN speech in 2012 to show how close Iran, which insists its nuclear projects are peaceful, was to making a bomb.
Twitter, Facebook, and other popular social media sites are technically banned in Iran but Iranians are active on Twitter through proxy servers.
Key leaders, including Khameini, Rouhani, and Foreign Minister Jared Zarif, all have large followings and tweet official statements.
Netanyahu's office said it has not decided whether to interact with politicians on the new Twitter feed.
As reported by Ynetnews