Op-ed: Probe launched against commander who allegedly approved shelling of Gaza clinic will not hurt Israeli army; it will only strengthen it.
Lieutenant Colonel Neria Yeshurun was questioned Monday by the Military Police's Criminal Investigation Division. The investigation was launched following information that he had ordered his soldiers to bombard a clinic in the Gaza suburb of Saja'iyya.
It sounds like a war crime. But it's wasn't just a clinic. A day earlier, shots were fired from that same clinic, killing Captain Dmitri (Dima) Levitas.
A recording from the event clarifies two things. First of all, the shelling was a sort of salute in honor of Captain Levitas' funeral, which was held at the same time. Secondly, for Hamas it was a method. Hamas also used an UNRWA clinic, where three Maglan soldiers were killed in an explosion of barrel bombs.
Hamas distributed orders asking gunmen to hide in "civil population centers in order to carry out attacks." Why? The announcement explains: "Because the IDF rarely hurts civilians, and because the criticism against Israel grows when it does hurt civilians, Hamas' interest is to draw the fire towards civilians."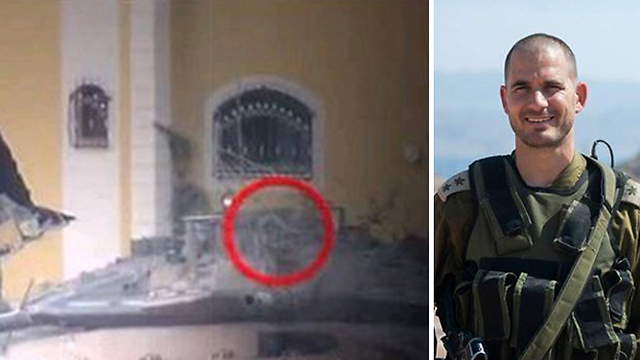 From a legal perspective, Protocol 1 Article 52.2 of the Fourth Geneva Convention permits attack on targets which "by their nature, location, purpose or use make an effective contribution to military action and whose total or partial destruction, capture or neutralization, in the circumstances ruling at the time, offers a definite military advantage."
There is no doubt that the clinic had turned into a place used for military activity. And what if there are innocent civilians there? Well, Article 28 of the Geneva Convention states explicitly: "The presence of a protected person may not be used to render certain points or areas immune from military operations."
Israel is arguing, and rightfully so, that it is making every effort to avoid harming civilians. The measures taken by the IDF include phone calls, text messages, leaflets and tiny "roof knocking" bombs in order to warn civilians in advance of an attack that may harm them. There is no other army in the world which takes these measures. And there have already been complaints that the high bar set by Israel may negatively affect the war on terror.
Israel's justified claims should only stress the fact that no one is exempt from an inquiry or investigation where there is a fear that they deviated from the norms. There are no wars without violations. American and British soldiers have faced investigations in light of reports on serious violations in Afghanistan and Iraq. An investigation is only a preliminary stage. Sometimes investigations are launched with a lot of noise and end in a small weak voice.
Neria Yeshurun's supporters opened a Facebook page in his honor: "We all stand behind Neria Yeshurun." That's very nice. Yeshurun deserves support. But that shouldn't prevent an investigation. If Yeshurun's supporters are confident that his actions were flawless, they should support an investigation. The investigation can present the full picture, which will clear him of any suspicion. And if, God forbid, there has been a flaw, no one is exempt from bearing responsibility.
Israeli poet and playwright Nathan Alterman wrote a poem against a crime committed during the War of Independence, when a soldier shot an innocent elderly man. Israel's first Prime Minister David Ben-Gurion distributed the poem in 100,000 copies among the soldiers. Alterman and Ben-Gurion are not suspected of persecution, nor of at attempt to discourage the soldiers or challenge the rightness of the war. On the contrary, they realized that Israel would be much stronger with fewer cases of this kind.
In Yeshurun's case, it's a different story. He isn't suspected of abusing an elderly man. The chances that his actions were in order, according to the known circumstances, are very high. So there is no need for any campaign. The Military Advocate General's Corps should be allowed to do its job. It's not hurting the IDF, it's only strengthening it.
As reported by Ynetnews