Great Egyptian actor, who died Friday, told Yedioth Ahronoth correspondent Smadar Perry about his Jewish and Israeli ties during a casual 1980s meeting at a Cairo hotel.
It's the 1980s. I'm at the luxurious Mena House Hotel in Cairo to cover diplomatic talks when I suddenly spot Omar Sharif in the lobby. "Will you be willing to give an Israeli journalist an interview?" I ask. He immediately says yes.
At the very beginning of the interview, he insisted on a picture showing him pouring coffee to the Israeli journalist. He spoke about the Jewish friends he had during his childhood in Egypt, told me about Israeli businesspeople who had taken care of him while he lived in France, confessed that he had become addicted to gambling and alcohol and said, "I live on suitcases in unglamorous loneliness."
He then told me about his curiosity and desire to visit Israel, but clarified that he would not do so because he was committed to the boycott decisions of the Egyptian actors' association.
Over the years, during my visits to Cairo, I occasionally met him several other times, but he wasn't the same person anymore: The drinking, the financial losses he suffered through gambling and his fading acting career left their mark on him.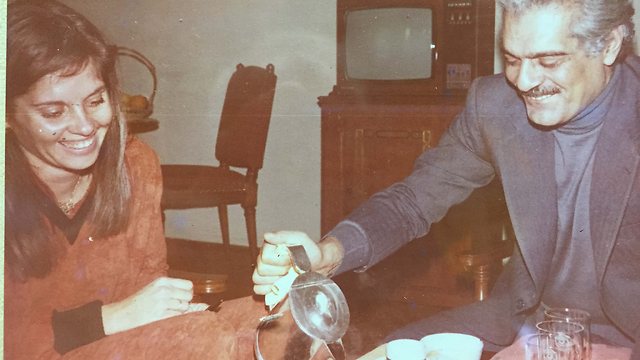 Only on Friday, when he died all alone at the age of 83 at a geriatric ward in a Cairo hospital, after suffering from Alzheimer's disease, Egypt forgave him and plunged into deep mourning. It forgave him for the hot kiss with the Jewish Barbra Streisand in "Funny Girl," for his criticism against Egyptian cinema ("poor quality"), for his alcohol addiction and for his deterioration into gambling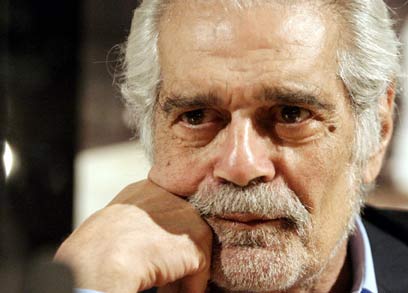 Omar is survived by a son and two grandchildren, as well as a cousin who lives in Israel: Acre resident Fatina Shalhoub, an Israeli Arab English and Arabic teacher at the ORT school.
"My grandfather and Omar's father were brothers, who were separated by politics," she told me on Saturday. "But when I arrived with my parents in London to watch a play he starred in, he invited us backstage and we discovered a warm and intelligent person.
"When I received the news about his death, I cried. I felt I had missed an opportunity to maintain a closer relationship with him. It hurts me to know that a person in his status died in such a state of loneliness."
As reported by Ynetnews