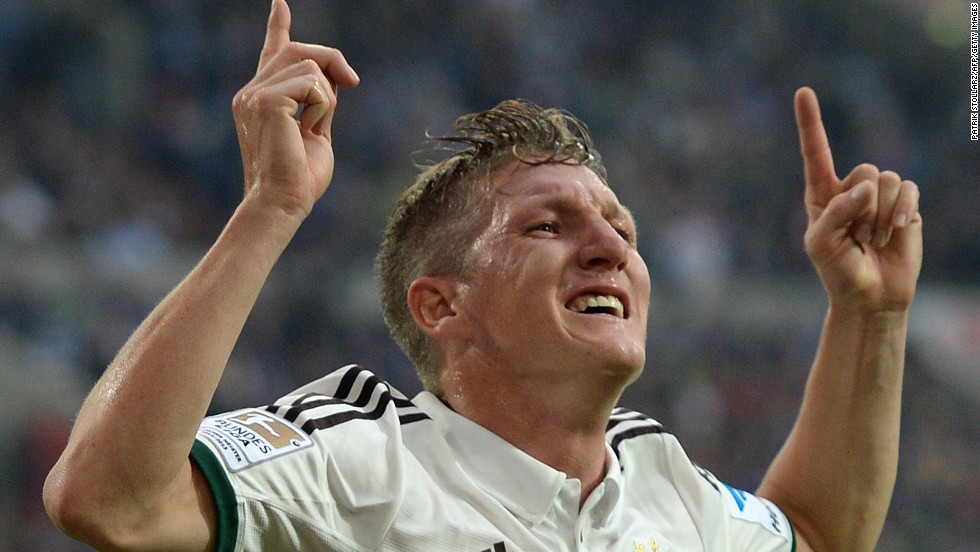 German international captain Bastian Schweinsteiger is to leave Bayern Munich to join Manchester United, the Bundesliga champions confirmed Saturday.
The 30-year-old Schweinsteiger has spent 17 years at Bayern, but will move to the English Premier League giants after putting in a transfer request.
"We've granted his request and agreed transfer terms with United," Bayern chairman Karl-Heinz Rummenigge told gathered reporters.
"I regret it, but I also understand a player seeking to gain new experience at the end of his career," he was quoted on the club's official website.
Schweinsteiger, who made 536 appearances for Bayern, winning 20 trophies, is expected to sign a three-year deal with Louis van Gaal's United.
"He asked me to find a way and things between Manchester United and Bayern Munich have been clarified, we have agreed on a fair transfer fee.
"We have taken into account that Bastian is a very deserving player.
"We tried to convince him to stay with Bayern Munich, but I completely understand that after 17 years with us, he wants to experience something new," Rummenigge said.
United, which is set to compete again in the Champions League after a fourth place finish in the EPL last season, later confirmed the deal on its official website.
"Manchester United is delighted to announce it has reached agreement with Bayern Munich to sign midfielder Bastian Schweinsteiger, subject to a medical and personal terms," the statement said.
Schweinsteiger won his 100th cap for Germany during the triumphant 2014 World Cup campaign and took the captaincy over from Philipp Lahm when his clubmate retired from international football after the tournament in Brazil.
Casillas leaves Real Madrid
Saturday also saw another club stalwart, Real Madrid goalkeeper and captain Iker Casillas, on the move to Portuguese side Porto.
Real issued a statement about the 34-year-old, who has spent 16 seasons with the Spanish giants.
"Real Madrid and FC Porto have agreed the transfer of Iker Casillas to the Portuguese club," the club announced.
His departure will increase speculation that Manchester United goalkeeper David De Gea is set to move back to his native Spain with Real.
Casillas has helped Spain to the 2010 World Cup and two European championships, winning five Spanish La Liga titles and three Champions League trophies with Real.
As reported by CNN