Pavel Postovoit's stunning artwork imagines a time in which conflict has not abated and Star-Wars-like creations patrol the land.
Pavel Postovoit imagines and illustrates the future field of combat of the not so distance future, as part of his cumulative project at Jerusalem's Bezalel Academy of Art and Design. Pavel's project is concept art of how the IDF will look in 2048, created through Photoshop and a Wacom graphic board.
Postovoit, 26, served in a surveillance role in the IDF's field intelligence corps, and says that his inspiration comes from the movie "District 9", which shows a futuristic alternative reality staged in South Africa.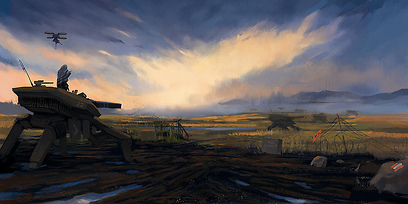 "The idea of creating local sci-fi appealed to me," he said. "We are used to seeing the future US in movies and video games, but we never see the future Israel. I think when you place a certain culture in a sci-fi environment its much more interesting. It's definitely more relevant for us in Israel when we deal with our reality."
Are the practicalities important to you?
"I try to be true to the future and the present –  I really wanted to present the IDF vibe – not everything is shiny, and they still use those ratty sunshades. You don't switch something that works.
"Of course it's important to me to present something that is believable, so I try and focus on the practicality of these things. I didn't want to get carried away with my imagination, so that you could still tell this was taking place here."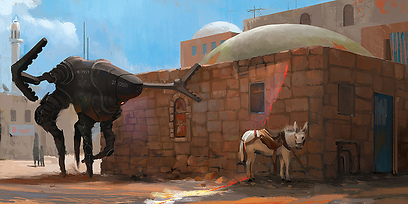 There are political images, like the image showing a donkey in a village.
"Yes. Truth is that you can't talk about the IDF without touching on politics and 'conflict'. I don't think the project purveys a specific world view, in my eyes its portrays my fears – on the one hand I am worried by our militaristic and nationalistic sways as a society – and on the other hand, I'm afraid of ISIS, and I love the IDF and want it to be as strong as possible. So this project leaves room for commentary in my eyes.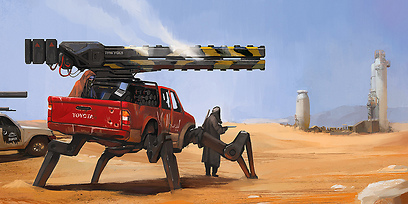 "What is sure is that it also portrays my desperation, and maybe the desperation of others resulting from the conflict. In 40 years everything will be the same."
As reported by Ynetnews