Officials confirms additional extension of talks with Iran in Vienna, says 'substantial progress' has been made; source says deal must occur within 48 hours; US rules out removal of restrictions on missiles and conventional arms.
Iran and major powers will continue negotiations on an historic nuclear deal to Friday, July 10, past a deadline for a long-term agreement, which is set to expire later on Tuesday, State Department spokesperson Marie Harf confirmed.
Harf also said that talks had made "substantial progress. We're frankly more concerned about the quality of the deal than we are about the clock, though we also know that difficult decisions won't get any easier with time – that is why we are continuing to negotiate."
But a source close to the talks said Tuesday that contrary to statements made by Iranian officials, the negotiations were not open-ended or without a deadline. "We've come to the end," the source added. "We have just made one, final extension. It is hard to see how or why we would go beyond this. Either it happens in the next 48 hours, or not."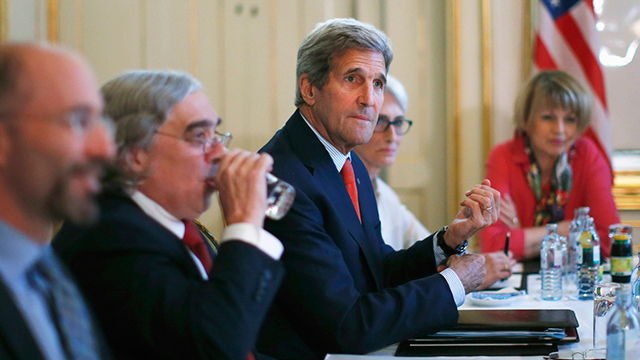 Harf's comments came just minutes after EU foreign policy chief Federica Mogherini announced, "We are continuing to negotiate for the next couple of days."
British Foreign Secretary Philip Hammond said he would return to  Vienna on Wednesday night and that the major powers were expected to reconvene on Thursday.
"We will be back here tomorrow night and we are looking forward to making some solid progress on Thursday when we reconvene," Hammond told reporters.
French Foreign Minister Laurent Fabius said there were still three main sticking points in the talks, including Tehran's demands to continue research on advanced atomic centrifuges and sanctions. "As far as France is concerned, we are insisting especially on necessary limitations on nuclear research and development, sanctions and their re-establishment, and the possible military dimensions" of past Iranian nuclear work, said Laurent. He said he would travel to Paris on Tuesday night and return to the negotiations on Wednesday evening.
As for the details of the deal, a senior US official said Iran will continue to face restrictions on its missile program as well as its trade in conventional arms. The announcement followed Iranian demands that any deal should include an end to a UN arms embargo.
The deal under discussion between Iran, Britain, China, France, Germany, Russia and the United States is aimed at curbing Tehran's most sensitive nuclear work for a decade or more, in exchange for relief from sanctions that have slashed Iran's oil exports and crippled its economy.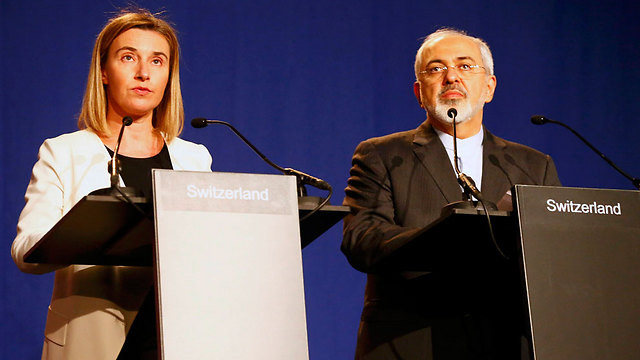 We might see some ministers leaving in the next hours and then (be) ready to come back," Mogherini said.
"We are interpreting in a flexible way our deadline, which means that we are taking the time, the days we still need, to finalize the agreement," she said, adding that there remained several difficult issues to resolve.
According to Russian Foreign Minister Sergei Lavrov a weapons embargo on Iran was the main obstacle still to be overcome at the talks with Tehran.
"I can tell you that there is only one big problem in terms of sanctions – it is the problem of a weapons embargo," Lavrov said.
The negotiators missed a June 30 deadline for a final agreement and then gave themselves until Tuesday.
As reported by Ynetnews