Investigators raided the Indiana home of longtime Subway pitchman Jared Fogle on Tuesday, seizing electronics in a search that the sandwich chain says might be linked to the earlier arrest of someone who once worked for him.
Agents took computers from Fogle's home in Zionsville, just north of Indianapolis, after arriving at about 6 a.m., Fogle attorney Ron Elberger said, without disclosing what they were looking for.
Elberger said Fogle, the man who soared to fame 15 years ago after saying he shed more than 200 pounds in part through a Subway diet, has not been arrested or charged with any crime.
The sandwich chain said Tuesday that it was parting ways with Fogle.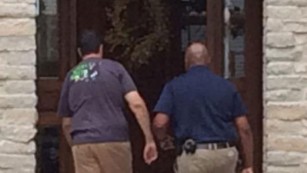 "Subway and Jared Fogle have mutually agreed to suspend their relationship due to the current investigation," a Subway spokesman said in a statement. "Jared continues to cooperate with authorities, and he expects no actions to be forthcoming. Both Jared and Subway agree that this was the appropriate step to take."
Tuesday's raid comes more than two months after the executive director of the Jared Foundation — Fogle's organization that aspires to combat childhood obesity — was arrested in Indianapolis on federal child pornography charges.
Authorities haven't said anything linking the search at Fogle's home to that case or any other investigation.
Attorney: He has not been charged with any crime
"Jared has been cooperating with law enforcement in its investigation of certain unspecified activities and looks forward to its conclusion," Elberger said.
FBI Special Agent Wendy Osborne, responding to questions, said that the agency is "conducting investigative activity in the area," but that she couldn't discuss the nature of the probe. U.S. Attorney's Office spokesman Tim Horty said he couldn't confirm or deny an investigation.
But Subway said that it believed the search was "related to a prior investigation" of someone who used to work for Fogle's foundation.
"We are shocked about the news and believe it (Tuesday's search) is related to a prior investigation of a former Jared Foundation employee," a Subway spokesman said. "We are very concerned and will be monitoring the situation closely. We don't have any more details at this point."
Subway didn't name the former Jared Foundation worker or elaborate on that case.
Foundation's former executive director charged
Authorities have previously said that the foundation's former executive director, Russell C. Taylor, 43, of Indianapolis, was charged in early May with seven counts of production of child pornography and one count of possession of child pornography.
During a late April search at Taylor's home, authorities found "a cache of sexually explicit photos and videos Taylor allegedly produced by secretly filming minor children" there, federal prosecutors said in a May news release.
Adam Brower, an attorney for Taylor, declined to comment on the allegations Tuesday.
After Taylor's arrest, Fogle issued a statement saying that he was shocked at the allegations and that his foundation was severing its ties with Taylor, WTHR reported.
On Tuesday, a nonuniformed man escorted Fogle from his home into a white truck parked in his driveway, video from CNN affiliate WTHR showed. The video shows gloved investigators carrying electronics from the home.
Later, WTHR reported, Fogle left the property in a car with his attorney.
Authorities have spoken to Fogle previously about the case involving his foundation's former executive director, Elberger said.
Subway commercials brought fame
Fogle became famous in 2000 when the sandwich chain released a commercial centered on his claims that he dropped about 245 pounds — from a peak weight of 425 — in one year as an Indiana University student, thanks in part to exercise and a simpler diet involving Subway subs.
He served as a Subway pitchman in the ensuing years.
In 2013, he told CNN's "Piers Morgan Live" that he traveled almost 200 days a year for his job with Subway, and that he still was focused on keeping weight off.
"I don't eat (Subway) every single day anymore. (It's) in moderation. I tell you, I kept the weight off for 15 years. I still probably average eating it three or four days a week," he said.
As reported by CNN