PA security forces arrest 170 Hamas men in connection with shooting attacks against Israelis, raising the wrath of Gaza's ruling faction.
The Palestinian Authority has arrested 170 Hamas men in the West Bank over the past few days, a Palestinian security source told Ynet on Monday, leading to threats from the Gaza terror organization.
The Palestinian source said the arrests were done in connection with the series of shooting attacks against Israelis in the Binyamin area over the past two weeks that claimed the lives of Malachi Rosenfeld and Danny Gonen.
According to the source, there is evidence pointing to Hamas being behind the series of attacks, which also included a shooting at a Maden David Adom ambulance that ended with no casualties.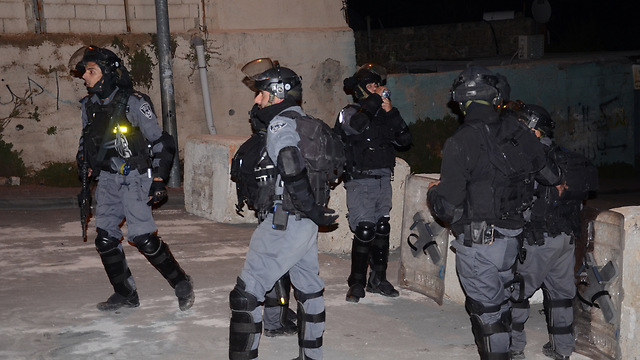 The arrests were made in three waves. In the first and biggest raid, 108 Hamas men were arrested in one night, some of them are former prisoners released from Israeli and PA jails.
The PA security forces' spokesman, Adnan al-Damiri, said Hamas was trying to undermine the security situation in the West Bank, adding that the Gaza rulers were doing so while holding indirect contacts with Israel to secure a long-term ceasefire in the Strip.
Hamas condemned the wave of arrests, and Hamas official Ismail al-Ashqar threatened that if the PA continues these arrests, Palestinian security forces will become a target to the "Palestinian resistance" in the West Bank.
Other Hamas officials said the security forces in the West Bank were operating as part of a plan to eliminate Hamas in the West Bank, a plan they said serves Israel.
"If Hamas tries to test our patience and commit a terror attack that affects Palestinian security – the organization will meet with a response it cannot imagine," Fatah said in response.
Nablus governor Akram Rajoub, who used to be a senior official in the Palestinian security forces, said that any attack against the PA will turn all of Hamas' men in the West Bank to a target.
Despite the mutual threats, the Palestinian security source said Hamas would not dare execute an attack against the PA security forces, but did not rule out the possibility Hamas men could open fire at PA security when they come to arrest them.
As reported by Ynetnews