Arson by Palestinians suspected after over 100 hectares of woodlands go up in flames in less than a week.
Over 100 hectares of natural woodlands went up in flames in the Ma'ale HaHamisha kibbutz near Jerusalem within less than a week, in three separate fires.
It is suspected that the fires were caused by Molotov cocktails thrown from the adjacent Palestinian village of Qattana.
The most recent fire erupted on Saturday afternoon. According to fire and rescue services, it was caused by a firebomb thrown at the border fence between the Palestinian village and the kibbutz. Jerusalem Police opened an investigation following this finding, but no arrests have been made.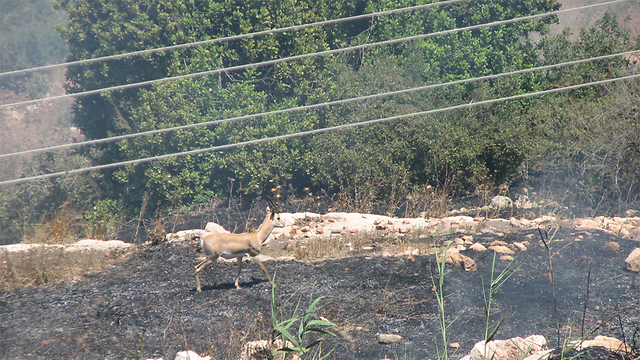 Fire Chief Reuven Yitzhak said his station in Beit Shemesh was working nearly around the clock.
Firefighters worked for hours on Thursday to put out a blaze at the kibbutz and then spent Friday afternoon to Saturday morning putting out a huge fire in the woods near Kibbutz Tzora. They were called back to put out Saturday afternoon's fire.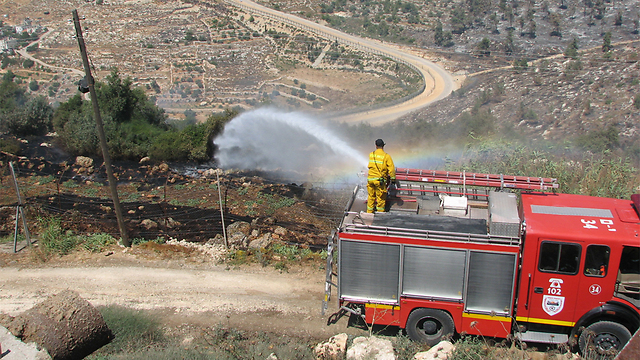 "It's very difficult," said Yitzhak. "The firefighters are wiped out – not just those on duty are working, but many are also called in from home."
Yitzhak said evidence had been found pointing to criminal activity. "On Thursday we found fragments of Molotov cocktails exactly at the spot where the fire started," he said. "I believe that today was no different from Thursday and no different from Sunday. It's a phenomonen we've been dealing with quite a bit in the last few years – Molotov cocktails thrown over the fence.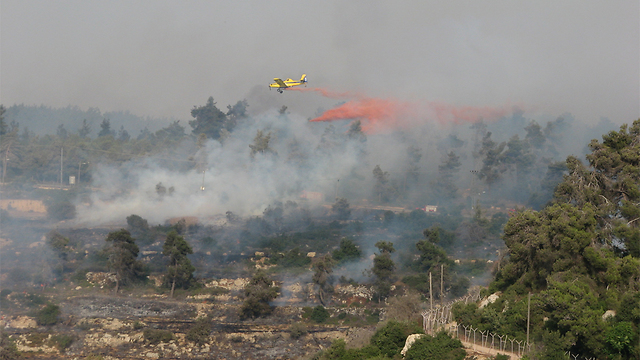 "In the last year there's been an increase in the number of incidents, not just in Ma'ale HaHamisha, but the whole sector. We are dealing with quite a few arsons."
Momi Elimelech, spokesman of the Fire and Rescue Services in Beit Shemesh, said 17 teams of firefighters, four aircraft, and a command center were at the scene of Saturday's fire.
Among the forces were firefighters from central Israel called to assist. The kibbutz swimming pool was evacuated out of concern that the flames could reach it.
There were no injuries or evacuations in any of the fires. According to Yitzhak, the outcome could be different if the weather is different in a future incident. "The winds in the area change all the time," he said.
Michal, a resident of Har Adar, said that the fires last week caused an interruption in her daily life.
"On Thursday, the road to Har Adar was closed for hours," she said. She continued to say that as a substitute the community opened its security-access road, but that this option was also closed after the road become non-drivable.
The road was later opened sporadically and was only accessible with a police escort.
"For five hours there was a traffic jam," she said. "It interrupts our routine. We sit right next to the security fence that separates us from an adjacent Palestinian village, and we are afraid there will be an escalation, and lighting fires won't be enough anymore."
As reported by Ynetnews