Starting at 6 pm, fire came within 400 meters of homes in town of Yavne'el, sparking quick reaction from 4 planes and scores of firefighters.
Israeli firefighters gained control over a huge blaze that broke out Thursday between Sharona and Yavne'el near the Sea of Galilee that brought out four planes that dropped flame retardant just 100 meters from housing.
The fire began in the dry vegetation sometime around 6 pm and eventually threatened homes in Yane'el. Firefighting teams arrived on the scene from the station in Tiberias before additional forces arrived from Afula.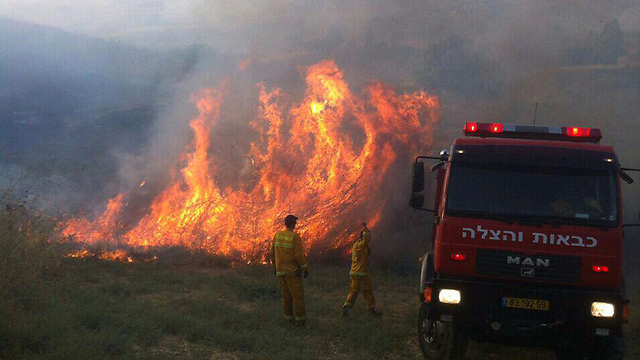 The flames reached within 400 meters of homes around 8 pm, closing nearby roads.
Several large fires have been recorded in the area of the few weeks. Firefighters said that dozens of blazes have broken out over the last month in the Galilee area.
As reported by Ynetnews