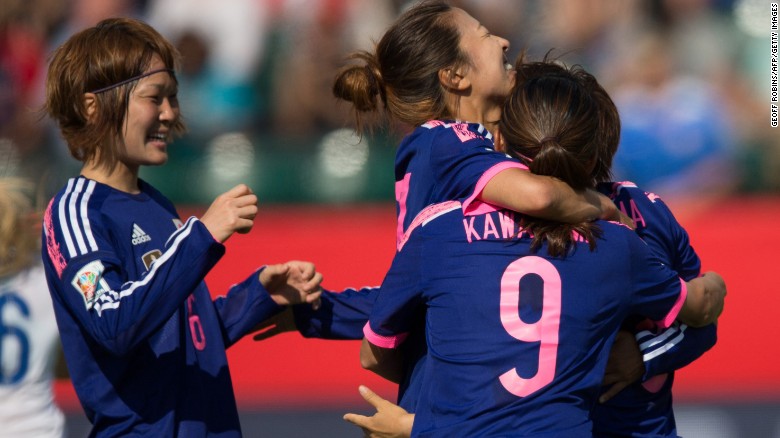 Defending champion Japan advanced to the Women's World Cup soccer final with a 2-1 victory Wednesday over England in a semifinal at Edmonton, Alberta.
The winning margin was provided by an own goal from England defender Laura Bassett, who attempted to clear the ball but accidentally sent it into the England net in the 92nd minute.
Her coach said Bassett had played good football against Japan and throughout the tournament.
"She's epitomized all the values that English football fans want to see in that white jersey when you have three lions on your chest," coach Mark Sampson said. "Pride, passion, never-say-die (attitude) and play for the team."
Bassett's nightmare came as Japan's Nahomi Kawasumi sent a bouncing cross into the penalty area with about one minute left in the contest. Bassett, with a Japan attacker getting past her, lunged at the ball with her right leg and meant to send it out of bounds.
Instead, it looped past England goalkeeper Karen Bardsley, who had no chance as the ball sneaked in, hitting the underside of the crossbar and touching ground well past the goal line.
Each team had scored earlier on a penalty kick in the first half. Japan's Aya Miyama converted from the penalty spot in the 33rd minute to give Japan a 1-0 lead. Fara Williams knocked home her spot kick in the 40th minute to draw England level.
Though Japan had a decided edge in possession, England outshot their opponents 15-7.
Japan will meet two-time champion United States on Sunday in a rematch of the 2011 World Cup final.
Japan and the U.S. played to a 2-2 tie four years ago, and Japan won the penalty-kick shootout 3-1.
England will play Germany on Saturday for third place.
As reported by CNN