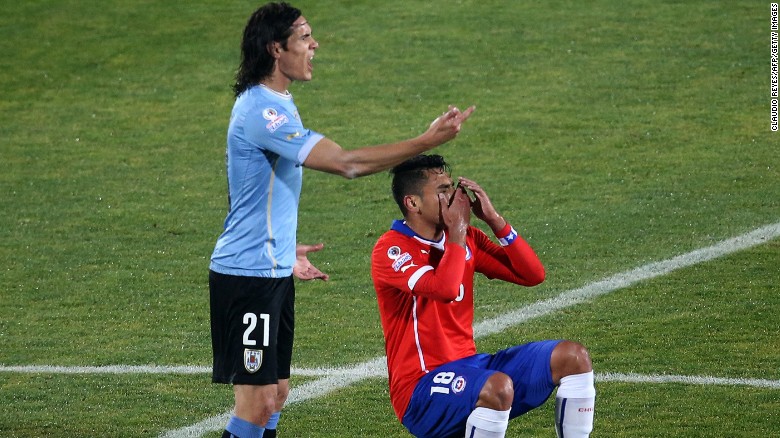 Chile's hopes of making the Copa America final on home soil were dealt a blow after key defender Gonzalo Jara was suspended for three matches and handed a $7,500 fine by South America's football confederation for poking his finger into Edison Cavani's backside.
"We regret this sanction but we will accept it," the Chilean Football Federation (ANFP) said in a statement on its website after Jara was ruled out of Chile's semifinal with Peru as well as the final if the hosts win Monday's game.
CONMEBOL opened disciplinary proceedings against Jara on Saturday, saying it was obliged to do so after receiving a formal complaint about the player's conduct by Uruguayan officials.
Cavani was given a second yellow card for retaliating by slapping Jara in the face, while the Chilean went unpunished as the poking incident was missed by the match officials last week.
Jara has been one of Chile's top performers at the tournament, forming a solid partnership in the heart of defence with Inter Milan's Gary Medel and his suspension means one of either Francisco Silva, Miiko Albornoz or Jose Rojas will come in.
While accepting Jara's punishment, the ANFP wants similar punishments handed out to Uruguay players for their behavior during the game.
"We're confident that the appointed disciplinary authority of the governing body of South American football will also apply the same rigor to the players of the Uruguay national team that were opportunely reported to have assaulted the assistant referee of the Chile-Uruguay match, Chilean players, disrespected the officials and the assistant to the stadium audience."
The ANFP named seven Uruguayan players — Cavani, Diego Godin, Fernando Muslera, José Giménez, Jorge Fucile, Alvaro Gonzalez and Christian Stuani — in its submission to CONMEBOL.
"The charges against them are the attacks and insults evident in Wednesday's game between Chile and Uruguay in the Copa America 2015, against the refereeing body and Chilean players, as well as provoking the audience at the National Stadium."
Chile coach Jorge Sampaoli has criticized Jara's suspension, arguing it had set a dangerous precedent.
"If you start acting on allegations outside of the referees report, things are going to get very complicated," Sampaoli said.
"If people start getting suspended on the basis of allegations from one side, then everyone will start trying to do it," he added.
Jara's provocation of Cavani was arguably reminiscent of some of the dark arts Uruguayan footballers have traditionally employed to put opponents off their stride.
Think of Luis Suarez biting Giorgio Chiellini, the violence-plagued Intercontinental Cup matches of yesteryear or any of the array of tricks used by former Juventus defender Paolo Montero, who still holds the record for the most dismissals — 16 — in Italy's Serie A.
Scottish players were also shocked by what went on in their 1986 World Cup game against Uruguay.
"It was awful. They would kick you, spit on you, pull your hair and put their fingers in places where fingers shouldn't go," striker Graeme Sharp told The Daily Telegraph last year.
"They were horrible, but their mentality was to win at all costs."
Meanwhile, former Uruguay captain Diego Lugano took to social media to warn Jara that he could be something of a marked man in future.
"This boy 'Jarita' will have to 'talk' when we next meet in the world," said Lugano's Twitter post, which has been retweeted over 12,000 times.
Repeat Offender
The incident made front page news in Uruguay but the match report by Chile's state-owned La Nacion failed to mention Jara's bizarre behaviour when discussing Cavani's dismissal.
Jara, who plays for German Bundesliga side Mainz 05, has history of past provocations.
Quite aside from becoming overly acquainted with Cavani's rear, he is also no stranger to Suarez's nether regions.
In 2013, the 29-year-old touched Suarez's genitals as both players awaited a corner during a World Cup qualifier, prompting the then Liverpool striker to lash out.
Gonzalo Higuain was also the victim of an attempted bum poke when Chile and Argentina met in 2012.
Suarez is not at the Copa America because of his own role in one of sport's more unsavory events when after biting Italy's Giorgio Chiellini at the 2014 World Cup, the Barcelona forward earned a nine-game international ban.
After Cavani's dismissal, things went from bad to worse for Tabarez's side.
Uruguay finished the game with nine men, with Jorge Fucile's late red card sparking a lengthy confrontation between players and officials from both sides as well as the dismissal of coach Tabarez.
As reported by CNN