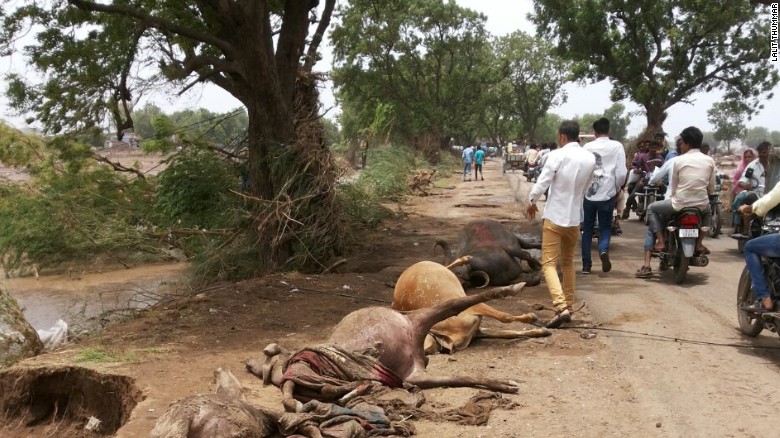 While many die from extreme heat across the border in Pakistan, monsoon rains in an Indian state known for its diamonds have also wiped out much that is precious — gemstones, homes and dozens of lives.
It's clear that the gems come last for Lalit Bhai Thummar, although he is president of the Amreli district's diamond association. "What to say about diamonds?" he asked, when so many people have died and lost their homes in India's Gujarat state.
Officially, the rains have killed 82 people, but that number is too low by about half, Thummar said, because it takes into consideration only residents who are officially on record there.
Hidden death toll
The industry employs some 15,000 workers in 1,700 factories. And it attracts migrant laborers from highly impoverished regions in northern and eastern India, Thummar said. They don't show up in the death statistics.
"Unfortunately, a number of them are among the dead," he said. "More than 150 people have died here," he insisted.
The deluge scored deep furrows in the land, washed up animal carcasses on roadways, and carried away trees, and homes — and with them many diamonds from the trade. Gem artisans usually carry diamonds home from the factories to polish for overtime work at night, Thummar said.
So, along with lives and homes, merchants in the diamond belt are counting their gems to tally those losses, too.
Thousands die in heat wave
In other parts of India, a heat wave lasting from May into early June killed more than 2,300 people.
And Gujarat state, where the monsoon rains fell, borders on Pakistan, where more than 1,000 people have died in the past week in one of the country's worst ever heat waves.
Mortuaries have been overflowing and burial grounds have not been able to keep up with the mounting bodies.
The baking sun has pushed temperatures up to between 104 and 120 degrees Fahrenheit during the Muslim holy fasting month of Ramadan, when the faithful abstain from food and drink during the day.
There, people have hoped for rain to drive away the merciless heat, which was starting to notch down on Saturday.
As repoted by CNN