US Secratary of State calls Iranian counterpart, says nuclear deal depends on honesty regarding Ayatollah's history of nuclear weaponization.
US Secretary of State John Kerry telephoned Iran's foreign minister in recent days to tell him that Tehran must answer questions about whether its past atomic research was arms-related if it wants a nuclear deal, officials said.
The telephone calls came after Kerry raised eyebrows among some Western officials by saying the US was "not fixated" on any past Iranian work, about which it already had "absolute knowledge," and was looking to the future instead.
The officials have also voiced concern that Kerry was backing down on a crucial demand in the talks, one Tehran has consistently ignored, and said he was overstating US knowledge about Tehran's past nuclear work in the interest of getting a deal at all costs.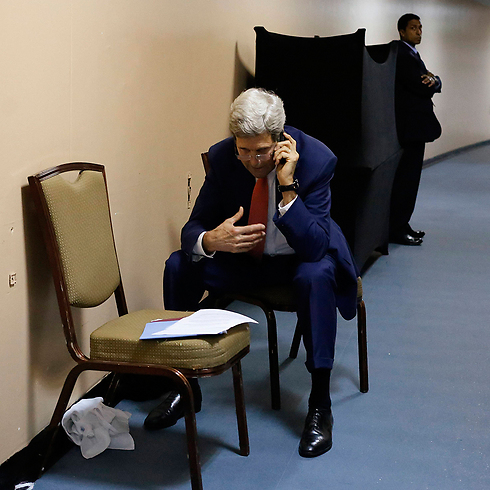 A day after Kerry made those June 16 remarks, a State Department spokesman said the words of the top US diplomat had been misinterpreted and dismissed the idea that Washington had climbed down from previous demands that Tehran come clean about its nuclear past.
But two Western officials, who spoke to Reuters on condition of anonymity, were not persuaded by the State Department denial.
"I suspect he accidentally gave a window into his negotiating stance with the Iranians," one official said. Critics say that Kerry's intense involvement in the talks suggest that he is chasing an agreement, signaling an eagerness for a deal that the Iranians can exploit for concessions.
The damage control went beyond the daily State Department briefings, during which reporters grilled new spokesman John Kirby on this issue for days. Kerry, officials told Reuters, called Iranian Foreign Minister Mohammad Javad Zarif to make sure he did not think Washington was letting Iran off the hook.
"Kerry called Zarif and told him the past does matter and the US was insisting that the PMD (possible military dimensions) issue be resolved in the negotiations," a Western source close to the talks told Reuters.
An Iranian official said Kerry spoke to Zarif twice in recent days.
"There were two calls from Kerry to Zarif, during which he corrected his stance … He told Mr. Zarif that he had been misunderstood and the past activities are important and should be clarified," a senior Iranian official told Reuters.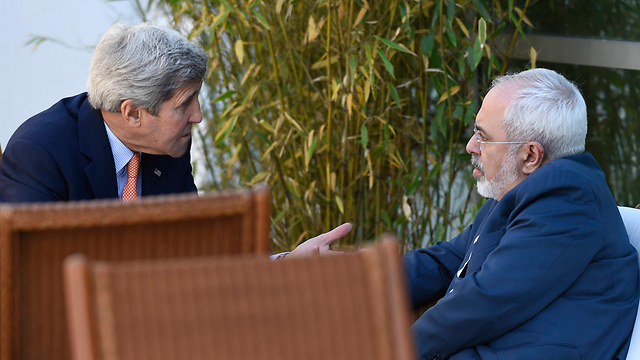 "Also he said that Iran should come clean on the past activities. This is an issue being discussed."
A senior US official confirmed that Kerry had spoke to Zarif but denied there had been any shift in the US position on the need for Iran to come clean about its nuclear past. "The US has consistently made clear our position on PMD, and it has not changed," the official said.
The United States, Britain, France, Germany, Russia and China have a self-imposed June 30 deadline to finish a long term nuclear deal with Iran under which it would curb sensitive nuclear activities for at least a decade in exchange for sanctions relief.
The US official said Kerry also spoke or met with the foreign ministers of France, Germany, Britain, Russia and China ahead of his Friday departure for the Vienna talks with Iran, and has kept in touch with the Israelis and Saudis as well.
"PMD came up in some of these conversations, but it was not the focus," the official added.
Officials close to the talks say they will likely run into July and that the chances of succeeding are greater than the likelihood of failure.
Tehran denies harboring any ambitions to develop atomic weapons but has rejected UN demands that it halt uranium enrichment and other nuclear activities, resulting in crippling international sanctions.
US officials had previously said Iran must answer all queries the UN International Atomic Energy Agency (IAEA) has about past Iranian activities that may have been related to atomic weapons research and that some sanctions relief under a possible nuclear deal would depend on resolving those queries.
Tehran says the agency's evidence about past weapons-related activities is fabricated and insists its nuclear program is peaceful.
Reaching out
France is one of the closest of the six powers to Israel and Saudi Arabia, regional foes of Iran who oppose a deal. They fear that a deal with Iran will effectively give it the right to continue developing a nuclear arms capability, even if its sensitive nuclear activities remain limited for over a decade.
According to a senior French diplomat, Kerry reassured French Foreign Minister Laurent Fabius earlier this week that the United States had not softened its stance on PMD and that his remarks had been over interpreted.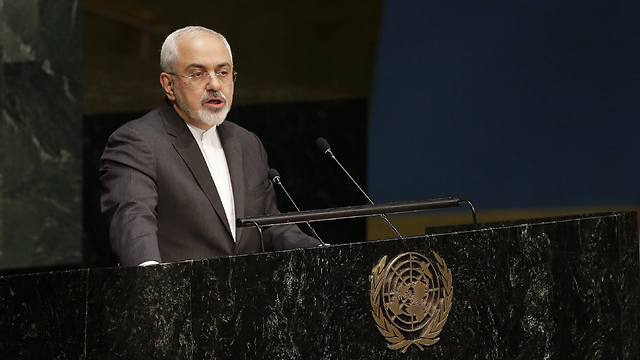 "If we are to know what Iran may get up to, then we need to know up to a point what Iran did do," the diplomat said, adding Paris and Washington shared the same view.
A group of prominent American security advisers, including five with ties to President Barack Obama's first term, said on Wednesday that the deal under discussion might be too weak to provide adequate safeguards.
That will be reassuring to those diplomats and experts concerned that failure to resolve this issue could undercut the ability of the IAEA to monitor compliance with any agreement reached with Iran, as well as undermine the agency's credibility.
Olli Heinonen, a nuclear expert at Harvard University and former deputy head of the IAEA, predicted that the PMD issue would be the last question resolved in the course of the talks. He also said it could not be swept under the carpet.
"It's a de facto nuclear threshold state. So you can't just forget about weaponization," he said. "You don't need to know every nut and bolt of the past program. But you need to know how far they got."
As early as November, officials close to the talks said the six powers were pressing Iran to stop stonewalling the IAEA, but were likely to stop short of demanding full disclosure of any secret weapon work by Tehran to avoid killing an historic deal.
As reported by Ynetnews