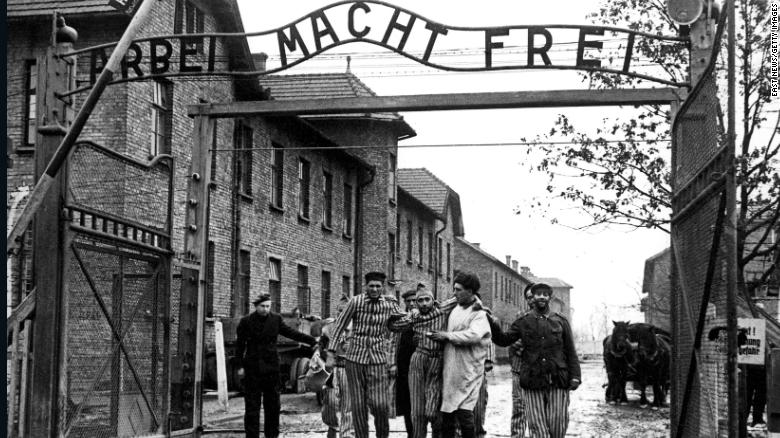 Two UK students have been sentenced after stealing items from the museum at Auschwitz — the former Nazi death camp in Poland.
The boys, both aged 17, have been fined 1000 Polish Zloty ($269) and given a year's probation, suspended for three years, their school in Cambridge said in a statement.
They were on a history trip to Poland, The Perse School said, when they were taken on a visit to the Auschwitz-Birkenau Museum that houses relics from the death camp where more than one million Jews died.
Police were contacted by museum guards regarding the suspected theft of a fragment of hair clippers and a spoon, buttons and two pieces of glass which may have originated from the site at the museum, Malopolska police in Poland told CNN.
"These items were confiscated and secured after a search was carried out on two visitors to the museum who are citizens of Great Britain," they said. The pupils were detained and questioned Monday afternoon with an English interpreter.
The UK Foreign Office confirmed the arrest of the two British nationals and told CNN they "are in contact with the Polish authorities and stand ready to provide consular assistance."
An investigation was carried out and the police added that a "criminal offense of this type carries a sentence of one to 10 years imprisonment."
A spokesman for The Perse School said in a statement: "We understand they (the students) have explained that they picked up the items without thinking, and they have apologised unreservedly for the offence they have given, and expressed real remorse for their action."
Headmaster Ed Elliott added in the statement: "Removal of historical artefacts is clearly wrong and a very serious matter. We apologise for any thoughtless and offensive behaviour by these two pupils.
"Each year at the Perse, we hold the Josef Behrmann lecture, named in honour of a former pupil who survived 14 camps," he added. "We have also been privileged in recent years to hear testimony from two survivors. We are committed to bringing a proper understanding of the Holocaust to our pupils."
In 2009, the famous "Arbeit Macht Frei" sign, which translates as "Work sets you free," at the Auschwitz-Birkenau concentration camp in Poland was stolen,before being discovered cut into three pieces. In November last year, an iron gate with the notorious slogan was stolen from the former Dachau concentration camp in Germany.
As reported by CNN