Following report that Sakhnin resident fled to Syria with wife and children to join Islamic State group, relatives express shock and anger at the man they say ruined their lives.
The family of a woman said to have fled to Syria with her family to join the Islamic State terror group has been in mourning since the news broke – and are adamant that she was taken against her will.
Relatives said on Tuesday that the woman was forced by her husband to join IS. "People saw him forcibly dragging her and threatening her children," they said.
Several days ago the husband sent the family a message in which he wrote, "I have no place in Israel. The only place for us is the Islamic State".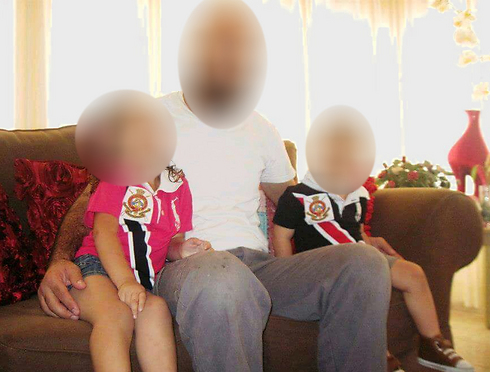 Relatives travelled to Turkey to search for the family and convince them to return, but failed to reach them.
"Every day is a day of mourning," said the woman's father. "We lost an entire family, my daughter and three grandchildren were everything to me. We are against the Islamic State organization. They are murderers.
"We are a secular family that is accepting of everyone. We are in deep pain. This has destroyed our family. I hope my daughter and her children return to the embrace of our family."
The woman's uncle said his niece had traveled with her husband and three children to Romania for her brother's graduation ceremony. "After the party, we received information that she and her husband had gone to Turkey with their children and then infiltrated into Syria," he said.
"It's very likely that her husband influenced her by force. He threatened his wife and pressured her to join him. We are convinced that he abducted her and the children and dragged them to the most dangerous place in the world. She never in her life had such thoughts. To the contrary, in fact."
The uncle said that the family was unaware that the husband was such an extremist. "They are normative, educated people who grew up in good houses and lacked nothing. I knew the husband was a religious man. But we didn't think he belonged to IS or any other organization. He is a successful businessman who has come far in life."
The uncle further said that his niece's husband had sold off all the furniture in the couple's home gradually, without people noticing.
"All of this proves that he planned everything," he said. "If he is really a radical person who belongs to a murderous and fascist organization, I will not speak to him and will not forgive him. I am ashamed even to speak about him."
He added that "IS is a non-Muslim organization. They just want to slander Islam. We live in one country – Jews, Arabs, Druze, Circassians, we are all more than brothers. Unfortunately, the husband came to ruin our lives. No one will accept him."
The uncle strongly emphasized that his niece had no desire whatsoever to join IS. "I hope she returns with her children," he said.
"We are all living in fear and cannot manage to deal with the current situation. We are suffering and miserable, and waiting to hear that they are going to return to Israel and live normal lives."
As reported by Ynetnews