Emergency Knesset session and possible suspension are just some of the reactions to MK Bassel Ghattas' decision to participate in Gaza flotilla.
Joint Arab List MK Bassel Ghattas' decision to participate in the upcoming Gaza flotilla has caused an uproar in the Knesset on Monday.
Kulanu MK Meirav Ben-Ari (Kulanu) requested a special Knesset session on the matter, which was scheduled for Wednesday.
"The MK is making a cynical use of his immunity and looking to solve the Israeli-Palestinian conflict with provocation rather than peace," Ben-Ari said. "A member of Knesset who acts against the Knesset and the State of Israel, his immunity should be reconsidered and the Knesset's Ethics Committee should examine this case."
In an interview with Ynet, Ghattas called MKs condemning his decision "hypocrites," saying they were "trying to make headlines at my expense. I want to remind them that Israel apologized over the Marmara affair."
Ghattas is referring to a 2010 Israeli commando raid of a Turkish boat which attempted to break the bloackade over Gaza.
Concurrently, the Chairman of the Knesset's House Committee, MK David Bitton (Likud), called a special meeting of the committee on Tuesday to discuss the possibility of suspending MK Ghattas from the moment he steps aboard the ship.
Ghattas rejected the request to suspend him, saying "I am performing my duty as a publicly elected representative. I am not doing anything illegal or illegitimate. My participation in the humanitarian flotilla to Gaza is my right and duty. The issue is not the flotilla but the humanitarian crisis that exists for a million Palestinians, as a result of Israel's blockade."
Meanwhile, Culture and Sport Minister Miri Regev has approached Attorney General Yehuda Weinstein, demanding to remove Ghattas' immunity if he joins the flotilla. "We must end the use of the position of MK as a tool to undermine the government," Regev wrote. "Its time to instill order, and prevent Arab MKs from inciting against Israel."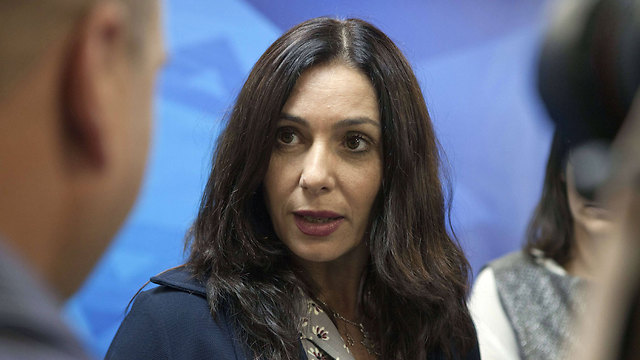 Ghattas is not the first Arab MK to board a flotilla. His Joint Arab List colleague, MK Hanin Zoabi, was on the Mavi Marmara flotilla in 2010. She submitted a bill proposal to allow the new flotilla to arrive in Gaza.
"The Israeli blockade on Gaza is a massive crime, as are the war and killing of civilians," Joint Arab List MK Ayman Odeh said. "We support the humanitarian flotilla and MK Bassel Ghattas. The flotilla is meant to put the spotlight on the terrible suffering of Gaza's residents, they live in a massive prison."
Ghattas originally sent a letter to Prime Minister Benjamin Netanyahu and Defense Minister Moshe Ya'alon stating his intention to board the ship.
"There is no reason to prevent us from reaching Gaza and administering the aid that we are bringing with us," he stated. "I call on you to instruct the IDF to stay away from the flotilla and allow us safe passage. Taking over the ships and preventing them from reaching Gaza will only embroil Israel in another international crisis, for which you and your government will bear responsibility."
The three-ship flotilla, which was organized by Swedish pro-Palestinian activists, will include academics, parliament members, artists and others. Among the participants are Spanish MP Ana Miranda and ex-pat Israeli Dror Feiler – an artist and left-wing activist who has lived in Sweden for many years.
As reported by Ynetnews