French FM, currently visiting in Israel, says that a nuclear deal is not guaranteed as June 30th deadline approaches.
France's Foreign Minister Laurent Fabius said on Sunday it was unclear whether an international deal could be reached on Iran's nuclear program by a June 30 deadline.
Fabius has said he would meet his Iranian counterpart Mohammad Javad Zarif on Monday to assess where Iran stands ahead of the final round of talks on its nuclear program, which begin later in the week.
"We need to be extremely firm, at the stage where we are now, things are still not clear," Fabius said in talks with Israeli Prime Minister Benjamin Netanyahu.
Monday's bilateral meeting, on the sidelines of an EU foreign ministers' summit in Luxembourg, will be followed by a meeting between Zarif and all the European parties negotiating with Iran.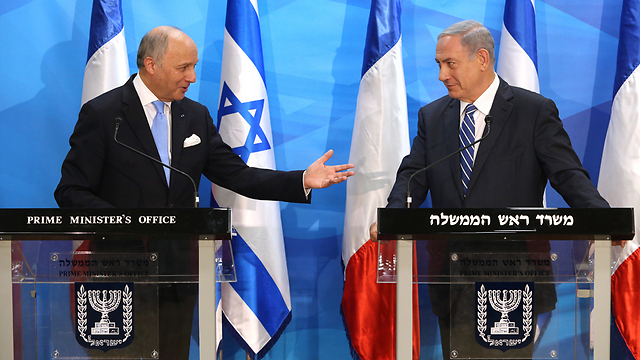 "Towards the end of next week the ministers will go (to the talks), so I'd like to have an explanation and conversation to see where the Iranians are," Fabius told reporters in Cairo on Saturday, on the first day of the two-day Middle East visit.
In Luxembourg, Zarif will also be meeting with EU foreign policy chief Federica Mogherini and ministers from Britain and Germany on Monday to discuss the nuclear talks, an EU source said, calling it "a political meeting in the framework of ongoing negotiations."
Iran reached a framework nuclear deal with the United States, Russia, China, France, Britain and Germany on April 2 in Lausanne. The parties are aiming for a final agreement by June 30 under which Iran would restrict its nuclear programme in exchange for relief from economic sanctions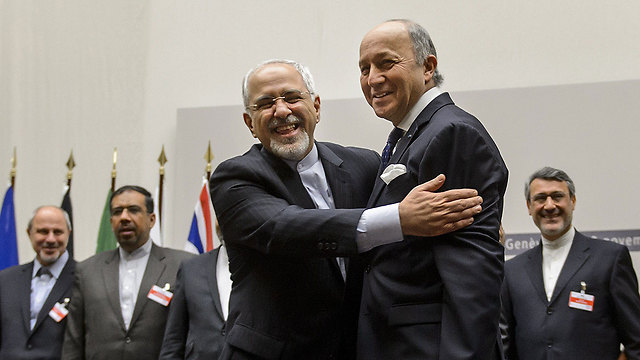 France is deemed to have been one of the toughest in pressing for limits to prevent Iran acquiring an atomic bomb capability, although Tehran denies seeking nuclear weapons.
Netanyahu urged Fabius at their meeting on Sunday to "stand firm and prevent a bad deal" with Iran.
Israel has sharply criticised the emerging agreement as not going far enough to guarantee Tehran will not obtain a nuclear bomb nor barring Iran from continuing to arm Israel's enemies, such as Hezbollah in Lebanon.
Fabius told reporters in Jerusalem: "I will see Iran negotiator tomorrow, but at the point where we are things are not clear. There is a need to clarify, make precise and ensure the deal is robust."
As reported by Ynetnews