The Qatar-based Al Jazeera network is calling on German authorities to release a journalist arrested in Berlin and wanted in Egypt.
Ahmed Mansour, a senior journalist for the network, was arrested at the airport in Berlin as he tried to board a flight to Qatar, Al Jazeera reported Saturday.
An Egyptian court convicted and sentenced Mansour in absentia on charges of torturing a lawyer in Cairo's Tahrir Square in 2011. He was sentenced to 15 years.
In a statement, Mansour said the German officers told him the arrest was at the request of Egyptian authorities.
After the journalist was sentenced last year, Egypt did ask the international police body Interpol to seek Mansour's arrest, but according to Al Jazeera, the request was denied.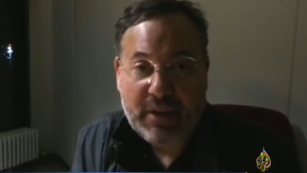 "I informed [the German police] that the global police organization has rejected Egypt's request and that I have this document from the Interpol to prove that I am not wanted in any charge," Mansour said.
The journalist said the charges and his conviction were "fabricated," and Al Jazeera characterized them as "a flimsy attempt at character assassination" against Mansour.
German police confirmed that a journalist was arrested at the Tegel airport on Saturday afternoon, but declined to give the detainee's name.
Germany's federal police cited an Interpol request as the reason for the arrest.
It is not the first time Egyptian authorities have gone after Al Jazeera journalists.
Three journalists — Peter Greste, Mohamed Fahmy and Baher Mohamed — spent more than a year behind bars.
They were arrested in Egypt in December 2013, accused of supporting the Muslim Brotherhood and broadcasting footage that portrayed the regime falsely with the intention of bringing it down. They have consistently denied the charges or any ties to the Muslim Brotherhood, saying they were only doing their jobs.
Earlier this year, Greste was freed and deported to his native Australia, and Fahmy and Mohamed were granted bail pending a retrial.
As reported by CNN