Another deadline, another day without a deal.
European officials and the International Monetary Fund have failed to strike a deal on Greece's bailout program, bringing the country one step closer to a dangerous default and potential exit from the eurozone.
"It is regrettable that too little progress has been made in the talks, and no agreement is in sight," said Jeroen Dijsselbloem, who chaired the meeting of eurozone finance ministers.
After the talks collapsed, the EU called an emergency summit of leaders for Monday to "urgently discuss the situation of Greece."
A new anti-austerity government in Greece has been trying to renegotiate the terms of its 240 billion euro bailout since early this year. Europe and the IMF have relaxed some of the conditions but say Greece must make substantial reforms to its economy in return for the remainder of the cash, and any new support.
Dijsselbloem suggested there was still time to find an agreement and extend the current bailout, but said the "ball is in Greece's court."
No deal in the next few days could be the beginning of the end, because account holders may start pulling more money out of Greek banks, fearing the worst. A deep financial crisis and capital controls would likely follow.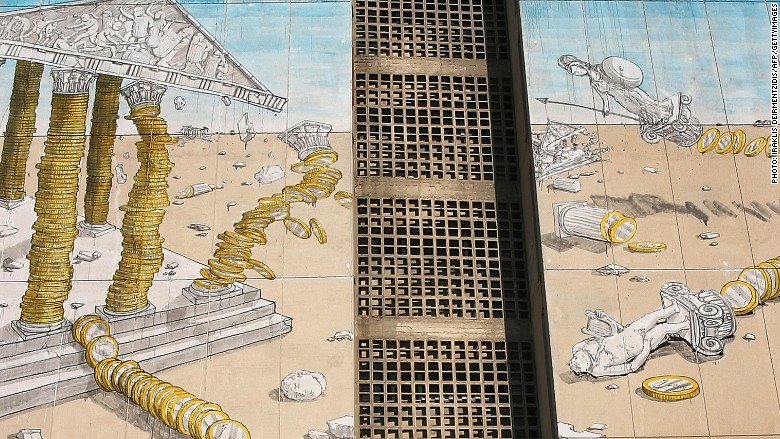 The country must pay the IMF 1.54 billion euros by June 30, which is also when its bailout agreement is due to expire. It does not have access to international credit markets and without the bailout money, it would have to default on its debts.
IMF Managing Director Christine Lagarde said she hoped Greece would make its repayment on time, but made clear the IMF would consider Greece to be in default if it didn't.
A disorderly default would likely mean Greek banks could no longer rely on funding from the European Central Bank, which is the only thing keeping them afloat.
"We're approaching the end of the game. I call on the Greek government to seriously return to the negotiating table and avoid a catastrophic scenario," said Pierre Moscovici, the European Commission's top finance official.
After the meeting, Lagarde said it was time for a "dialogue with adults in the room."
As reported by CNN