Following suspicion that fire at church in Galilee was hate crime, local Christian leaders urge authorities to do more and warn that pilgrims are reconsidering their trips.
The investigation of the suspected arson at the Church of the Loaves and Fishes Thursday morning was transferred to the West Bank nationalist crime department, following suspicion that it was nationalistically motivated and a hate crime.
Locals were shocked by the fire and graffiti sprayed on the wall – "and the idols will be cut down."
After the fire, the fire department issued an update that the team headed by the head of investigations in the north, Reshef Oscar Fox, determined that it was set deliberately in a criminal act.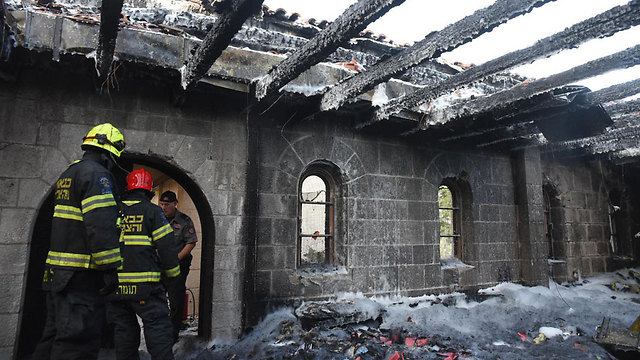 Meanwhile, researchers from the police forensic science department collected evidence at the site, in at least two areas in which the fire was started.
Prime Minister Benjamin Netanyahu instructed Shin Bet chief Yoram Cohen, to speed up the investigation.
Father Gregory Collins, head of the Order of Saint Benedict in Israel, which maintains the site, made his way north from Jerusalem, while the nuns and monks at the scene struggled to make sense of the destruction.
I consider such an attack to be not just an attack on a religious site, on a sanctuary, but also on one of the most visited places in Israel," Collins said. "It is also an attack on freedom of speech, democracy and the right to live here."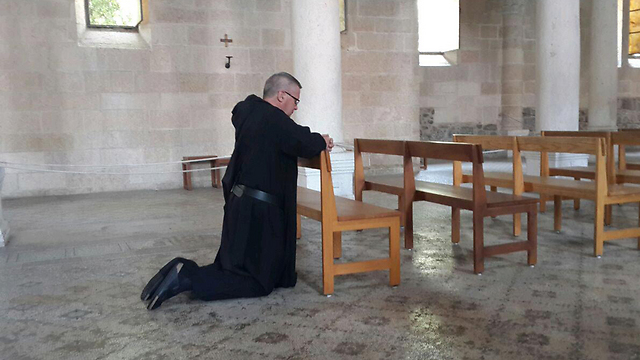 Church employees said a relaxation site belonging to the church was vandalized a year ago.
Worshipers continued to arrive at the church throughout the day. "It's horrible," said one local visitor. "It's simply a racist act."
Several Jewish women from Tiberias who work at an institute for people with special needs arrived to show solidarity with the church. "They're amazing people," said one woman. "Sometimes we sleep in one of the buildings and start going on trips from here. It's a very serious incident that has appalled us all."
Two people were lightly injured in the fire – a 79-year-old male employee and a 19-year-old female pilgrim.
Wadia Abu Nasser, the communications adviser of the Catholic Church in Israel, called for a strong reaction by the state.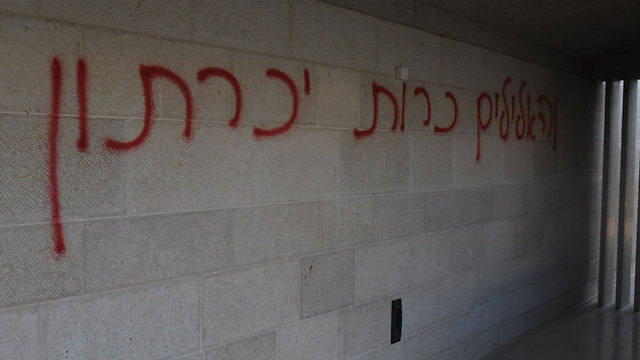 "This is another incident in a chain of incidents," he said. "Grave desecration at the cemetery in Bar'am, arson in Latrun and Jerusalem, attacks on priests. We understand that this is just a handful, but this handful causes tremendous damage. Not just the damage worth millions of shekels here, but worldwide damage.
"People are calling me from all over the world to see what the situation is. Pilgrims are considering whether it's safe to visit here. It's really terrible. I call on the authorities to deal with this incident and the chain of incidents in every way, both from a security perspective and from a cultural-educational one."
Abu Nasser told Ynet that "the Vatican is up to date, and not just them. We are getting phone calls from all over the world. There is concern. There are even pilgrims who are debating not coming to Israel."
Netanyahu spoke on Thursday with Shin Bet chief Yoram Cohen and instructed him to speed up the investigation into the fire. "Freedom of worship in Israel is one of our cornerstones and is enshrined in law," he said.
Police said they initially arrested 16 youths, all religious Jewish seminary students from West Bank settlements, but released them shortly after. Their lawyer, Itamar Ben Gvir, told Army Radio the police had no evidence against the youths and that they were under suspicion simply for looking like young settlers.
As reported by Ynetnews