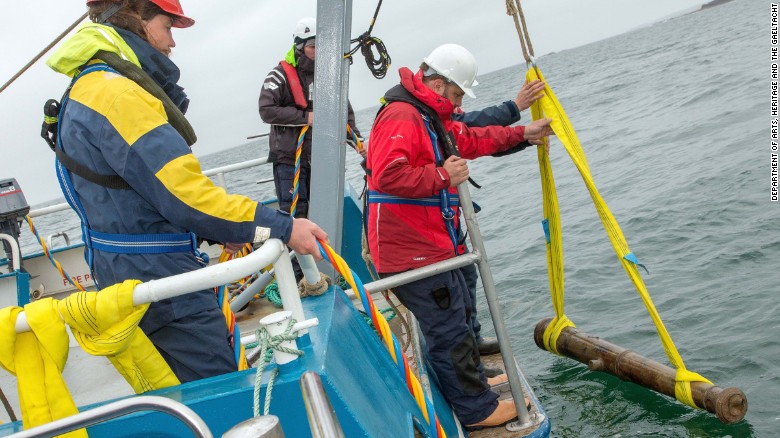 More than four centuries after it sank to the sea bed, the secrets of a Spanish Armada wreck are being uncovered off the west coast of Ireland.
A number of cannons, timbers and an anchor from La Juliana, one of three Armada ships wrecked off the coastline in 1588, have been recovered by divers for Ireland's heritage ministry.
Heavy storms over the past two years are thought to have uncovered the 16th century vessel, long buried in the sandy sea bed off the coast of Streedagh, in County Sligo.
The government was first alerted after timbers started washing ashore in April, said Heather Humphreys, Minister for Arts, Heritage and the Gaeltacht (Irish-language region), in a news release.
"On current evidence, the other two wreck sites remain buried beneath a protective layer of sand, but the wreck of La Juliana is now partly exposed on the seabed along with some of its guns and other wreck material," Humphreys said.
"This material is obviously very historically and archaeologically significant."
Humphreys said the priority for the government was to safely recover the artifacts, "so they can be conserved and safeguarded by the National Museum, whilst at the same time also recording the wider wreck site."
Relics dating to 1570
Among the relics recovered by divers are two cannons, including one dated 1570 which bears a dedication to and depiction of Saint Matrona, particularly venerated in Spain's Catalonia region. They are said to be in excellent condition.
La Juliana, a merchant ship built in 1570, was one of 130 vessels called into service by the king of Spain, Philip II, for his armada.
The flotilla set sail for England in July 1588 with the aim of overthrowing its protestant ruler, Queen Elizabeth I.
But a combination of mistakes, poor planning and attacks by the English navy resulted in the Spanish fleet being scattered in the English Channel and fleeing up the east coast of England.
A severe storm in the North Atlantic caused many of the beleaguered Spanish ships to sink off Scotland and the west coast of Ireland.
The recovery operation is expected to last a number of weeks, the Irish government said.
As reported by CNN